Mac 'n Cheese/Key Lime Pie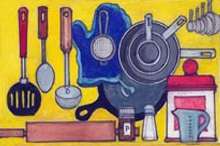 By Amy Story
Here's a Hug Mac 'n Cheese
INGREDIENTS
16 oz. elbow macaroni (or other tubular pasta), cooked
1 Tbsp. extra virgin olive oil
6 Tbsp. unsalted butter
1/3 c. all-purpose flour
3 c. whole milk
1 c. heavy whipping cream
4 c. shredded sharp cheddar cheese
2 c. shredded Gruyere cheese
1 Tbsp. minced garlic
salt and pepper to taste
1 1/2 c. panko crumbs
4 Tbsp. butter, melted
1/2 c. shredded Parmesan cheese
1/4 tsp. smoked paprika
PREPARATION
> Preheat oven to 350° F. Lightly grease large baking dish and set aside.
> Combine shredded cheeses in large bowl and set aside.
> Cook pasta one minute short of al dente according to package instructions. Remove from heat, drain, and place in large bowl.
> Drizzle pasta with olive oil, stir to coat. Set aside to cool while preparing sauce.
> Melt butter in a large saucepan and whisk in flour over medium heat. Continue whisking for about one minute, until bubbly and golden.
> Gradually whisk in milk and heavy cream until smooth. Continue whisking until bubbles appear on surface and then whisk for another 2 minutes. Whisk in salt and pepper.
> Add two cups shredded cheese and whisk until smooth. Add two more cups of shredded cheese and continue whisking until creamy. Sauce should be thick.
> Stir in cooled pasta until combined and pasta is fully coated with the cheese sauce.
> Pour half of the mac and cheese into prepared baking dish. Top with remaining 2 cups of shredded cheese and then remaining mac and cheese.
> In a small bowl, combine crumbs, Parmesan cheese, melted butter and paprika. Sprinkle over top and bake until bubbly and golden brown, about 30 minutes. Serve immediately.
Note: At my occasional lowest moments, all I want to do is sit on my bed, swathed in a fluffy comforter, with a fork sunk into bubbling hot mac n' cheese, usually sprinkled with copious amounts of freshly ground pepper. The cozy carbs slow down my body and make napping mandatory. Quite often things look a bit better after a comfort food-induced snooze.
Kickin' Key Lime Pie
INGREDIENTS
3 c. sweetened condensed milk
¾ c. key lime juice
1 Tbsp. vanilla extract
½ c. sour cream
zest of two limes, reserve a little for garnish
1 9-in. prepared graham cracker crust, or if you make a homemade one with a pinch of nutmeg, that's even better
PREPARATION
> Preheat the oven to 350° F
> Combine condensed milk, key lime juice, vanilla, sour cream, and lime zest in a bowl. Pour onto graham cracker crust.
> Bake in preheated oven for 5 to 8 minutes, until tiny pinhole bubbles burst on the surface of the pie. The filling will be wobbly but not browned. Thoroughly chill pie in the refrigerator before serving, about 1 hour.
> Garnish with lime slices, sprinkled nutmeg, and whipped cream, if desired.
*I add a little rum extract to the whipping cream for enhanced flavor.
Note: This is for those of us not quite ready to let go of a long Indian summer or the memory of sitting on friends' patios, watching squirrels chase each other along the fence, or surrounding the fire pit in our chairs to swap stories and songs.