May 2016 Calendar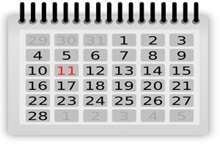 By Ruby Tanner
Want to announce your event in IDAHO magazine? There is no cost or obligation – but the event must be family-oriented and "family-affordable." All events get a line (date, event, location), and each month we choose several to highlight.
DEADLINE FOR SUBMISSIONS: The first of the month two months prior to the month of the event.
Example: deadline for a March event would be January 1.
Send details to: [email protected]
1      Pocatello Zoo opens for the summer, Pocatello
1            Story Trail Book of the Month-"Big Tracks, Little Tracks; Following Animal Prints": Jim Hall Foothills Learning Center; (208)493-2530, 3188 Sunset Peak Rd, Boise
1,8     Pocatello Downs Flat Track Horse Races: Bannock County Events Center, Pocatello
1-27     Titanoboa: Prehistoric Monster Snake exhibit; daily except Mondays, Idaho Museum of Natural History, Pocatello
1-29     Chess Players Wanted: Every Sunday (12-5pm) the "Iron Knights" are meeting for chess games at the Schnitzel Garten, Eagle
1-30     Petroglyph Walk and Historic Guffey Railroad Bridge: 10:00-2:00; self-guided tour; Celebration Park, Melba
2-21     Senior Exhibition: Daily except Sundays, 10:00 AM – 5:00 PM; Rosenthal Gallery, Blatchley Hall, The College of Idaho, Caldwell
3            Sinfonia Spring Concert: 7:30-9:00pm, Langroise Center, The College of Idaho, Caldwell
3            Kilroy Coffee Klatch: Held on the first Tuesday of every month for coffee and conversation at the Warhawk Air Museum, this event is FREE for ALL veterans and ALL veterans are welcome; 10:00 AM-12:00 noon; Nampa
4            "Take Me Fishing" Trailer: 4:00-8:00PM, McDevitt Pond, East McMillan, Boise
4            Family Night at Idaho Ice World: WEDNESDAYS, 6:30pm to 8:30pm; $5 per person including skate rental; quality entertainment in a safe, fun, family friendly environment that helps support a healthy lifestyle; Boise
4            Birding Series with Terry Rich–"Bird Identification": 8:00am to 9:30am, Free; Jim Hall Foothills Learning Center, Center3188 Sunset Peak Rd, Boise
4-5     Minico Ag Expo:Ag Expo for grade school children put on by Minico High School FFA; Minidoka County Fair Grounds, Rupert
4-25     Happier Hour Story Time: WEDNESDAYS at The Well~Read Moose, 2048 N. Main; FREE; starts at 4pm with stories starting at 4:30; Coeur d'Alene
5            Idaho Gives Day: This important event is one you can "attend" without leaving the house; From 12:01AM to 11:59PM on May 5, you can go online and make donations of $10 or more to a non-profit of your choice; visit www.idahononprofits.org to learn more; Statewide
5            Wildflower Walk: Come join a celebration of the Boise foothills wildflowers; botanists will lead participants on a 1-1/2 to 2 hour leisurely walk on trails behind the Old Penitentiary; there is no charge, but please register so that an adequate number of guides may be arranged, (208)343-8649; Idaho Botanical Garden, Boise
5            "Take Me Fishing" Trailer: 4:00-8:00PM, Wilson Ponds, Nampa
5-8            4th Annual Spring Rendezvous, Vintage Trailer, Camp-out, White Bird
6            Lego Club: A fun filled time for ages 8-12; 10:30AM, Public Library, Soda Springs
6            Late Night Friday: Ages 12-17; 7:00-11:00pm at the Fort Boise Community Center; Work out, hang out, play games, and learn how to make clay pots – whatever works for you; Play basketball or volleyball, use the Teen Activity Center computer lab, weight room, art classroom, X-Box, PC gaming or just relax with your friends; $2 or free with school ID, Boise
6            First Friday Art Walk: 5:00-8:00PM, Old Town Pocatello
6            National Public Gardens Day: The Idaho Botanical Garden continues its tradition of participating in this national day of celebration to raise awareness of America's public gardens and the role they play in promoting environmental stewardship and awareness, plant and water conservation and education; Admission: FREE to the public all day, 9:00AM to 7:00PM; Idaho Botanical Garden, Boise
7            "Take Me Fishing" Trailer: 10:00AM-2:00PM, Sego Prairie Pond, Kuna
7            Portneuf Valley Farmers' Market: Opening Day, 9:00-1:00, Old Town Pavillion, Pocatello
7            NCHD Health Fair, Challis
7            Hatching the Past: Museum Exhibit, Museum of Idaho, Idaho Falls
7            Museum Work Day: Volunteers welcome; Lunchtime Seminar (bring your own lunch): David Valentine, "History and Archeology of High-Lift Pumping"; The O.J.Smith Museum of Natural History, Boone Hall, The College of Idaho, Caldwell
7            Northern Pacific Depot Day Festival: Includes Classic Car Show and Craft Fair, kids games, and more on NP Depot grounds; new displays in the NP Depot and model trains as well, Wallace
7            Angel Walk & Classic Car Show: 10:00-2:00, Downtown Homedale
7            Momz Garage Mothers Day Car Show, Estrella Plaza, Star
7-8     Silverwood Anniversary Opening Weekend, Athol
7-8     Riggins Rodeo and Parade: Rodeo starting at 1:30 pm each day, and the traditional parade at 11:00AM Sunday, Riggins
7-28     Orma J. Smith Museum Open: FRIDAYS, 1:00PM-5:00PM; Free; This month's exhibit: "Jump Creek Cave", a late prehistoric hunting and game processing site; Artifacts include bone & lithic tools, Boone Hall, The College of Idaho, Caldwell
7-28     Capital City Public Market: SATURDAYS, 8th Street, Boise
7-28     Farmer's Market: SATURDAYS, Rexburg
7-28     Kootenai County Farmer's Market: SATURDAYS, Hayden
7-28     Farmer's Market: WEDNESDAYS and SATURDAYS, Downtown Sandpoint
8            Mother's Day at the Pocatello Zoo: Mothers will receive 50% off their admission when they are accompanied by a paid child; Pocatello Zoo, Pocatello
9-10            Spring Celebration: Schweitzer Mountain, Sandpoint
10            Story Trail Adventure—"Big Tracks, Little Tracks; Following Animal Prints": Jim Hall Foothills Learning Center; (208)493-2530, 3188 Sunset Peak Rd, Boise
10            "Reading Tails": All ages are welcome to bring a beloved book to share with this attentive audience of trained therapy dogs (with their owners) that are waiting to hear your favorite story; 3:30-4:30, Public Library, Nampa
11            "Take Me Fishing" Trailer: 4:00-8:00PM, Kleiner Pond, Meridian
12            "Take Me Fishing" Trailer: 4:00-8:00PM, Settlers Pond, Meridian
13            GingerFest: 6pm – 10pm (9pm last admission); Come celebrate redheads and red fun at the Old Idaho Penitentiary, Boise
13            Southern Idaho Outdoor Adventure Expo: 12pm – 8pm, CSI Expo Center, Twin Falls
13-14     Marsh Valley 8th District High School Rodeo: South Bannock County Fairgrounds, Downey
13-14     Pioneer Days: A great event for children, family and friends of all ages; rides in covered wagons, six pioneer buildings to view and experience; Dutch oven cooking; Blacksmith shop, Carriage Shop, Restored Pioneer Vehicles, Spinning Wheels, animals, implements, and more, Declo
14            "Take Me Fishing" Trailer: 10:00AM-2:00PM, Weiser Pond, Weiser
14            Archeology Fair: This Fair is an event you and your family won't want to miss; activities will include hands-on experience of all sorts: grinding corn using stones, using an atlatl or spear-thrower, putting together a broken pot, and digging an excavation unit; from 10:00AM to 3:00PM at the Old Assay Office/Idaho State Historic Preservation Office, 210 Main Street, Boise
14            Tutu Run: Half Marathon, 10K, 5K; Get your tutu on and run; random prizes will be given to people wearing tutus; Skyview High School, Nampa
14            Sacred Salmon Ceremony: The 15th Annual "Sacred Salmon Ceremony & Friendship Pot Luck" is free & open to all; takes place at noon (Mountain Time) at Spring Bar, about 12 miles east of Riggins
14            All-Class Reunion/Open House: Former Union School students and families are invited to attend an all-class reunion to be held at the school, now the Twin Falls County Historical Museum, Twin Falls
14            American Falls Birding Festival (208-226-5294), American Falls
14-15     Pickin' Boise Antique Show & Artisan Market: Admission, $6; South Expo Building, Expo Idaho, Garden City
14-15     Northwest Spring Fest: Kootenai County Fairgrounds, Coeur d'Alene
17     Environmental Book Series: 6:00pm to 7:30pm, Ketchum Community Library, Ketchum
17     Small Animal Presentation: Come and learn all there is to know about the small animals you love from a Zamzows expert; all ages are welcome; 4:15 PM, Public Library, Nampa
17      Mobile Food Pantry: 5:30 PM – 7:30 PM, Wilcox Fresh Warehouse, Rexburg
18      "Take Me Fishing" Trailer: 4:00-8:00PM, Sawyer's Pond, Emmett
19      Distinguished Student Concert: Hosted by the Music Conservatory School, 7 p.m. in the historic Panida Theater (information:208-265-4444), Sandpoint
19      "Take Me Fishing" Trailer: 4:00-8:00PM, McDevitt Pond, East McMillan, Boise
19      Board Game Day: Bring in your own games or play some of ours; free; no registration or library card required, all ages welcome, 4:00-6:00 PM, Nampa Public Library, Nampa
19-21     Bear Lake High School Rodeo, Montpelier
19-22     Lost in the '50s: Annual retro celebration; includes a downtown classic car parade and show, rock 'n' roll concerts at the fairgrounds, and more, Sandpoint
20      Lego Club: A fun filled time for those ages 8-12; 10:30AM, Public Library, Soda Springs
20      USA World Championship Marathon Jet Boat Race: Races begin on the St. Joe, then continue elsewhere in Idaho and Oregon, St. Maries
20-21     The Vintage Vixens Spring Market, Fairgrounds, Filer
20-21     6th District High School Rodeo: Minidoka County Fair Grounds, Rupert
21      Walk for Wishes 2016: 9:00 AM – 1:00 PM, Axiom Fitness Parkcenter, Boise
21      VFW Community Breakfast: 8:00 AM – 11:00 AM, VFW Hall; $5 donation, kids under 12 years old are free, Rexburg
21      WaterShed Weekend: Participate in a spring bird count, learn the sights and sound of many avian species, and learn how to best help our feathered friends; Free; Held at Hyatt Hidden Lakes Reserve, 5301 N. Maple Grove Road, Boise
21      Kids Tri Lava Triathlon: For kids ages 5 to 17; Swim, Bike and Run for fun; held at the Olympic Swimming Complex, Lava Hot Springs
21      Ketchum Wide Open: 12:00 noon, nine putt-putt holes around town; Prizes to first, second, third, youngest, oldest and farthest traveled, Ketchum
21      Idaho's Largest Garage Sale: 7am-6pm; Admission $3.00, West Parking Lot, Expo Idaho, Garden City
21      "Take Me Fishing" Trailer: 10:00AM-2:00PM, Mill Pond, Horseshoe Bend
21,26     Responsible Riders OHV Safety Class: 9:00AM-3:00PM, no fee, but current OHV sticker must be displayed, Idaho Falls Raceway training site, Idaho Falls
25      "Take Me Fishing" Trailer: 4:00-8:00PM, Wilson Ponds, Nampa
26      "Take Me Fishing" Trailer: 4:00-8:00PM, Kleiner Pond, Meridian
27      Annual Fisherman's Breakfast, St. Anthony
27-6/3      Avista NAIA World Series: NAIA College Baseball games, Harris Field, Lewis-Clark State College, Lewiston
28      Season opening: Clayton Museum, Kinnikinic Road, Clayton
28      Fort Hall Replica Opening: Old Time Fiddlers, Mountain Men, flintnappers, blacksmith and free chili feed, Fort Hall
28      Fisher Bottom Tour: As part of Idaho's Historic Preservation and Archaeology Month, Upper Snake Field Office Archaeologist Marissa King will lead a tour at the Fisher Bottom property located on the South Fork of the Snake River.Space is limited, so call (208)524-7524 in advance to secure your spot, Swan Valley
28      Historic Townsite Memorial Day Celebration, Chesterfield
28      "Take Me Fishing" Trailer: 10:00AM-2:00PM, Eagle Island Pond, Eagle
28      Season Opening: North Custer Historical Society, Main St, Challis
28-30     American Heroes Weekend: Free admission to Silverwood Theme Park for all military personnel, veterans, police officers and firefighters, Athol
29-30     FiberTrain Wool Festival: Two fun-filled days of fiber animals, demonstrations, classes, food, music and shopping; FREE; Lloyd Square, Nampa
31-6/4                  TVTAP Bike Week: Celebrates all things bikes in Teton Valley Idaho, Driggs