Maybe Not the Last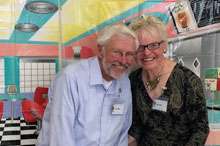 The Pull of Old Friendships
Story and Photos by Mary Mink
In 2017, the Gooding High School Class of 1958 held a reunion strangely out of rhythm, a year short of their sixtieth. Age was catching up to folks, and some were worried they might not make it to a 2018 gathering. The class had had several reunions, the first coming ten years after graduation, all of them largely organized by classmate Pauline Walton Shaw. At the 2017 event, another of the classmates, Lois Muffley Mintun, brought her daughter Katie, who stepped up and announced that the reunions of this class were so much fun she wanted to continue to participate in them. Before long, plans were under way for a sixtieth, and Katie's family agreed to be responsible for the entire party. But how many of the graduates would be around to attend?
My husband, LeRoy Mink, is a member of this class. I attended Hagerman High School and am three years younger. Our relationship began the year after he graduated from high school, so the only classmates of his whom I knew were a couple of fellows he hung around with. When the class started having reunions, we were located away from Gooding and had neither the funds nor the vacation time to attend, but we did go to the fifteenth-year event, held in an inn on the main street in Gooding. About twenty classmates attended that one in 1973, which was a fairly standard party consisting of a dinner and a round of sharing from people about how their careers were progressing and where they had traveled, but a lot of folks made a point of striking up a conversation with me and I felt included.
The comment has been made about Roy, especially from the women who were in his class, that he was pretty quiet in high school and he still is pretty quiet, but I guess I'm a contrast to his style, as I tend to talk a bit. I went to the first and only reunion of my high school class, a ten-year gala in 1975, but attended solo, and actually have enjoyed my husband's reunions more. We've now gone to seven gatherings of the class of 1958, although we skipped one year when it was held in Twin Falls and Roy decided to boycott the party, because it didn't take place in Gooding.