Men in a Burrow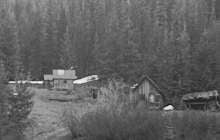 Snowed-In With a Vengeance
Story and Photos by Clell G. Ballard
My late father, Claude Ballard, became postmaster in Fairfield, the seat of Camas County, in 1934. In our extremely small community, he knew everyone who received mail at the post office. Even today, you can ask the postmaster to hold your mail for a while when you'll be away for some reason. In the 1930s, such a hold request was made by two individuals who planned on staying all winter in the old mining town of Carrietown, which is approximately twenty miles north as the crow flies, high in the Sawtooth Mountains. That was unusual, because it was well known that winter conditions in the mountains were much more extreme than in Fairfield.
This isn't to say the winters in my part of Idaho are mild, which is due in large part to our geographical setting. Our valley in Camas County, fifteen miles long and about five miles wide, is often referred to as the Little Camas Prairie, to differentiate it from the larger Camas Prairie in northern Idaho. It lies parallel to the Snake River Plain, in the middle of the state, on the northern edge and just south of what now is the Sawtooth National Forest. The valley is flanked by mountains on the north and south, and its floor has an elevation of five thousand feet. One thing that makes our valley unique is it runs east-west, while all other land forms that extend from the Snake River Plain run north-south.
Most of southern Idaho is on the Snake River Plain. That great expanse is the location of the agricultural heart of the state. The elevation varies from place to place, but mostly it's around three thousand feet. The weather is generally favorable for farming and an amazing number of irrigation projects have helped much of what is otherwise semi-desert to bloom. Most of Idaho's population can be found there.