My Analog World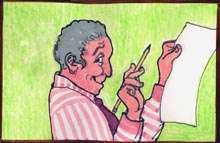 In a Digital Universe
By Steve Carr
My wife and I decided to go to a 10:30 movie. Yes, despite our age we occasionally do silly, impulsive things after the evening news. Unlike our children however, we calculate and then contemplate the consequences of our late-night spontaneity. As we gathered our keys, checked the doors, made sure the dog was in, added water to her bowl and turned off the TV, my wife computed the approximate time of our return. The movie would last two hours, the previews about fifteen minutes, the drive to the theater another ten.
I watched intrigued as she raised her index finger and circled a minute hand's passage around an imaginary clock. "It'll be 1:00 a.m. before we crawl into bed," she warned, with a date-night playful grin, as she stocked her purse with treats.
Despite my own lingering ability to air-dial my childhood best friend's rotary phone number, I smiled at the peculiarity of my wife's calculation of time passage. I teased her gently, suggesting that no one born after 1980 would have a clue what she was doing, drawing circles in the air. And why not? They were born to the Digital Age, they were Binaries: those who know intuitively which button to push. We are from the Age of Analog : serial button-pushers.