My Town Back Then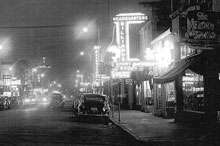 Beloved Things Now Gone
By Linden B. Bateman
Photos Courtesy of Linden B. Bateman
"My Town, Idaho" is the 2019 theme for the Idaho Day observance held in the Idaho Capitol in Boise and statewide each year to celebrate the creation of Idaho Territory by President Abraham Lincoln on March 4, 1863. In writing here about his own upbringing in Idaho Falls, the author—a retired state representative who introduced the legislation to establish Idaho Day—demonstrates that memories of how a place changes over time are inseparable from love for it.
A mighty river runs through my town, Idaho Falls, which is adorned with parks and green space. It has magnificent historic buildings, museums and cultural centers alongside thriving and progressive industry, commerce and infrastructure. A gleaming white LDS Temple, crowned by a golden angel, stands at the forebay, where waterfalls tumble past and into the heart of the city. The beautiful First Presbyterian Church on Elm Street with its honey oak interior has hardly changed in a century. Within its stained glass, mellowed and toned by decades of changing sunlight, are etched the names of parish members who served in World War I. Four large Ionic columns gracing the porch of the building were hauled three hundred miles by huge teams of horses over unpaved roads from a stone quarry near Boise, the same one that provided stone for the state capitol.
The glazed brick Idaho Falls City Building stands on Constitution Way, its handsome Greek façade symbolic of a democratic system of government kept close to the people. Within the plain exterior of the Bonneville County Building, its second-story stained glass skylight wistfully reflects a hundred shades of yellow, gold, and amber as sunlight streams through the rotunda.
Starting in 1942, I was raised at 348 7th Street. We lived a little more than a block from the city limits, although today the same house stands in the center of town. In those days, the street was gravel or dirt. At the end of 7th Street on Holmes Avenue was farmland, which now is occupied by Idaho Falls High School. Pheasants were occasionally seen in the neighborhood, while nighthawks, flying fast and low, filled the air nearly every summer evening. They have long since vanished from our old neighborhood.