October 2021 Calendar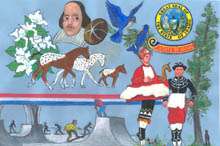 By Les Tanner
Family-oriented and affordable Idaho events get a free line in our calendar, and each month we choose several to highlight. Here's how to submit:
Deadline: The fifteenth of each month.
LEAD TIME: Two issues.
Next deadline: October 15 for the December 2021 issue.
Send details to: [email protected]
Double-checking with event coordinators about the following locations, dates, and times is recommended.
Northern Idaho
9/30-10/3 Fall for History Festival: A gala celebration of Wallace's history and its designation as being entirely listed on the National Register of Historic Places. Speakers, historic home and museum tours, live theater re-enactments and more. Wallace
1-2 The Follies: Angels Over Sandpoint's annual wild 'n' wacky fundraiser at the Panida moves to autumn this year, with proceeds benefitting the charity's good deeds in the community. Sandpoint
1-3 Salmon River Art Guild Show and Sale: Friday, Noon to 5 PM; Saturday, 9 AM – 5 PM; Sunday, 9 AM – 3 PM. Admission is free. Community Center, Riggins
2 First Saturday at the Museum. Enjoy free admission to the Bonner County History Museum, 10 AM – 2 PM, Sandpoint
2-3 Panhandle Preparedness Expo:
Two days of preparedness, demonstrations, presentations and vendors to help the community to prepare for any kind of man-made or natural disaster. Bonner County Fairgrounds, Sandpoint
2-30 Long Camp Farmer's Market: SATURDAYS, Kamiah/Kooskia
5 Auditorium Chamber Music Series:
The Goldstein-Peled-Feterstein Trio. 7:30 – 8:30 PM, Auditorium, Administration Building, U of Idaho, Moscow
6 Fall Career Fair: Hundreds of employers will be on campus to network with, interview, and hire U of I students and alumni. 2 – 6 PM, Kibbie Dome, Moscow
7 The Well~Read Evening Book Club: 6 – 7:30 PM, The Well Read Moose, Coeur d'Alene
10 Ponderay Market: Live music, food vendors, and more! Free and open to the public.
10 AM – 3 PM, Bonner Mall Way, Ponderay
13 The Well~Read Morning Book Club:
10 – 11:30 AM, The Well-Read Moose,
Coeur d'Alene
14 Concert Band & Wind Ensemble: 7:30 – 9 PM, Auditorium, Administration Building. $7 for adults, $5 for students and senior citizens.
U of Idaho Campus, Moscow
16 Harvest Fest. Sandpoint Farmers Market closes out the season with entertainment, food booths, activities, displays at Farmin Park, Sandpoint.
19 Piano Concert: Pianist Roger McVey performing the music of Franz Liszt.
7:30 – 8:30 PM, Haddock Performance Hall, U of Idaho Campus. $7 for adults, $5 for students and senior citizens. Moscow
23-24 North Idaho Birth & Baby Fair: This event highlights Kootenai County's birth & baby businesses. There will be discussions, panels, and demonstrations from local professionals. 10 AM – 5 PM, Kootenai County Fairgrounds, Coeur d'Alene
25-27 Idaho Bach Festival: 7:30 – 8:30 PM, Auditorium, Administration Building, U of Idaho Campus. $7 for adults, $5 for students and senior citizens. Moscow
31 Tubaween: Tuba and Euphonium Concert.
4 – 5 PM, Haddock Performance Hall, U of Idaho Campus. Donations will be accepted
at the door, with proceeds going toward future tuba/euphonium events and guest artists. Moscow
Southwestern Idaho
1-3 Canyon County Fall Show: Visit with local experts, including the Canyon County Master Gardeners who will be on hand all weekend to answer your lawn and garden questions. Ford Idaho Center, Nampa
2 Taste of Caldwell Harvest Festival: Fresh picked corn, tomatoes, pumpkins and much more. Experience all the great things Fall Harvest in Caldwell has to offer, including a nighttime celebration. 5 – 8 PM, Indian Creek Plaza, Caldwell
2 Workday Seminar: (Seminars virtual until further notice.) Richard Salisbury, "New Discoveries in Marine Biology". Noon to 1 PM, O.J. Smith Museum of Natural History, College of Idaho, Caldwell
2 Kuna Fall Flea Market: SW Corner of Deer Flat & Linder Rd, Kuna
2 Eagle Saturday Market: 9 AM – 2 PM, Heritage Park, Eagle
2 Boat Races & Fireworks–Auto racing: Speed Tour Modifieds, Pro Late Model Series, Street Stocks and more. Gates Open: 4:45 PM, Racing Starts: 6:30 PM. Meridian Speedway,
S. Main St., Meridian
5 Kilroy Coffee Klatch: The Coffee Klatch meets at 10 AM and is FREE to any and all veterans! The general public is also welcome; regular admission charges will apply. Coffee and doughnuts will be served. No RSVP required. We hope you will join us! Warhawk Air Museum, Nampa
7 Parenting with Love and Logic: This class provides a great opportunity for parents to learn simple and easy-to-use techniques that will help them have more fun and feel less stress while raising responsible kids. The class is free but registration is required.
6 – 8 PM, Public Library, Nampa
9 Kids Discovery Expo: Sat, 10 AM – 4 PM, Expo Idaho, 5610 N Glenwood St., Garden City
9 Eagle Harvest Fest: Handmade items, produce, and prepared food vendors only.
9 AM – 2 PM, Heritage Park, Eagle
9-10 Idaho Renaissance Fair: The Idaho Renaissance Faire revives after the Covid-19 pandemic! Come prepared for fun! Kuna Greenbelt, 301 W 2nd St, Kuna
12 Music History with Eric Collett: Eric Collett, CEO of A Mind For All Seasons, brings music history to life each month with narrative descriptions, musical samples, humor and a wealth of little known facts and tidbits. 4 – 5 PM, Salmon Creek Gracious Retirement Living, 4890 N Cloverdale Rd, Boise
22-24 Famous Motel Cowboys Reunion: Visual Arts Collective (VAC), 3638 Osage St.,Garden City
22-24 Boise Fall Home Show: This annual event features hundreds of beautiful displays, plus professional tips, remodeling ideas, landscaping, new products, expert advice and more. Expo Idaho, Garden City
29-31 Gem Fair: Expo Idaho, Garden City
31-11/1 Eat Pant Fest: Settlers Park, Meridian
Southern Idaho
1-2 Vintage Vixens Market/Idaho Market Days: This Vintage-Inspired shopping event features three LARGE buildings packed full of One-of-a-Kind Vintage Goods, Antiques, Re-Purposed, Up-Cycled, Re-Cycled Finds and almost everything else. Live Music, Food Trucks, Homemade Goodies and
more, too. Friday 10 AM – 7 PM, Saturday
10 AM – 5 PM. Twin Falls County Fair Grounds, Filer
Central Idaho
2 Community Farmers Market: City Park, Challis
6-10 Trailing of the Sheep Festival, Hailey
Eastern Idaho
1 Pocatello Fall Friday Art Walk, Downtown Pocatello
2 Car Wash Party: Firehose Car Wash's One Year Anniversary, with free washes and other good stuff. Come and help us celebrate. 2 – 4 PM, 1269 E 17th St., Idaho Falls
2 The Great Pumpkin Festival and the Farmers Market Fall Festival: From 9 AM – 2 PM enjoy everything Fall! Decor, pumpkins, harvest produce, vendors with all types of items
for the holiday season and more. Downtown Pocatello
9 10th Annual Rock, Gem and Jewelry Sale: 9 AM – 5 PM, Bonneville County Fairgrounds Idaho, Falls
15 Bach Festival: 3 – 7 PM, Riverside Studios, Rexburg
21 Open Gym and Preschool Open Gym: 11:30 AM – 12:30 PM, Flip & Twist Family Agility Training Centers, Ammon
23 Courageous Kids Climbing: This activity provides the opportunity for the participants aged 3 to 103 to enjoy an hour or two of rock climbing. For people with special needs, rock wall climbing has helped enhance focusing, refine problem-solving skills and improve coordination and
builds confidence while lessening the fear of heights. 10 AM – Noon, Teton Rock Gym, Driggs
28 Boo at the Zoo: 5 PM, Tautphaus Park,
Idaho Falls
30 Halloween Carnival: Come enjoy live music, great food, fun activities, and local product vendors. There will be raffles, a treasure hunt for all ages and more. 11 AM – 9 PM, Krupp Scout Hollow, Rigby
30 Zoo Boo: 10 AM – 3 PM, Zoo Idaho, Pocatello