Stalking the Smelters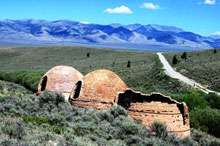 Detective Work in the Mountains
Story and Photos by Ray Brooks
I rose early and arrived by 11 a.m. at the southern gate to Nicholia, which had been a mining and smelting town in the 1880s. It's now a privately held ranch headquarters in Birch Creek Valley on the east side of the Lemhi Range off Highway 28. I was completing a quest to visit all of Idaho's pre-1890 mines with smelters. Key targets were Nicholia and its smelter, as well as some of the numerous charcoal kilns nearby that had helped to fuel the smelter, and the impressive ruins of the Viola Mine high above the ghost town.
From about 1883 to 1890, the mine and its smelter had supported the then-thriving town of Nicholia, whose population went up to about one thousand. Very little remains of it now. A long-established Forest Service road goes through the contemporary ranch but I noted a discreet "No Trespassing" sign at the southern entrance, and turned around. I drove south along the mountains and up nearby Edelman Canyon, where another old road on Forest Service land climbs steeply to the mine, eighteen hundred feet above Nicholia. I beat my high-clearance SUV up it a ways and then decided it would be wise to park and hike. By then, the day was warming, and I knew the remaining fourteen-hundred-foot climb would be mostly on treeless, south-facing slopes. It seemed prudent to me at age seventy-two to either try another alternative driving route later or make the hike early the next morning. I drove farther south, to explore 1880s charcoal pits up Italian Canyon.
A wonderful 1970 history of the Birch Creek Valley titled Between These Mountains, by Pearl M. Oberg, has a chapter on the extensive charcoal-making that fueled the Viola Mine's smelter at Nicholia. Pearl mentions that charcoal was made both at Idaho's best-preserved kilns ten miles west of Nicholia and at numerous charcoal pits along the forested canyons on both sides of Birch Creek Valley. Italian, Irish, and Chinese workers cut vast amounts of cordwood that they often processed in their own charcoal pits because, as the author notes, company wages for woodcutters varied from fifty cents to $1.50 a day, half or less than that earned by experienced miners in Idaho at the time. Locally abundant Douglas fir and mountain mahogany were the preferred fuels.