Stalking the Smelters [read this free]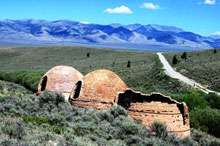 Detective Work in the Mountains
Story and Photos by Ray Brooks
I rose early and arrived by 11 a.m. at the southern gate to Nicholia, which had been a mining and smelting town in the 1880s. It's now a privately held ranch headquarters in Birch Creek Valley on the east side of the Lemhi Range off Highway 28. I was completing a quest to visit all of Idaho's pre-1890 mines with smelters. Key targets were Nicholia and its smelter, as well as some of the numerous charcoal kilns nearby that had helped to fuel the smelter, and the impressive ruins of the Viola Mine high above the ghost town.
From about 1883 to 1890, the mine and its smelter had supported the then-thriving town of Nicholia, whose population went up to about one thousand. Very little remains of it now. A long-established Forest Service road goes through the contemporary ranch but I noted a discreet "No Trespassing" sign at the southern entrance, and turned around. I drove south along the mountains and up nearby Edelman Canyon, where another old road on Forest Service land climbs steeply to the mine, eighteen hundred feet above Nicholia. I beat my high-clearance SUV up it a ways and then decided it would be wise to park and hike. By then, the day was warming, and I knew the remaining fourteen-hundred-foot climb would be mostly on treeless, south-facing slopes. It seemed prudent to me at age seventy-two to either try another alternative driving route later or make the hike early the next morning. I drove farther south, to explore 1880s charcoal pits up Italian Canyon.
A wonderful 1970 history of the Birch Creek Valley titled Between These Mountains, by Pearl M. Oberg, has a chapter on the extensive charcoal-making that fueled the Viola Mine's smelter at Nicholia. Pearl mentions that charcoal was made both at Idaho's best-preserved kilns ten miles west of Nicholia and at numerous charcoal pits along the forested canyons on both sides of Birch Creek Valley. Italian, Irish, and Chinese workers cut vast amounts of cordwood that they often processed in their own charcoal pits because, as the author notes, company wages for woodcutters varied from fifty cents to $1.50 a day, half or less than that earned by experienced miners in Idaho at the time. Locally abundant Douglas fir and mountain mahogany were the preferred fuels.
I soon found the remains of charcoal pits about one-and-a-half miles up Italian Canyon. Such pits are impressive only to historians, since they are simply flat areas of abundant charcoal fragments in scattered trees and sage, sometimes with a few soldered-top tin cans, broken glass, and square nails that help to date the charcoal back to the 1880s.
The pits were usually not pits but cleared flat ground that were covered by a framework of poles. Smaller branches and pine boughs were woven into the poles to form a hut-like structure, which then was covered with dirt or mud. Depending on the size of such a structure, from fifteen to fifty cords of wood were placed in it, lit on fire, and then starved of oxygen to eliminate open flames. Subjected to temperatures near one thousand degrees, the wood was converted into volatile gases, a watery tar mixture, and the solid residue known as charcoal. After a week or two of slow-cooking with limited oxygen, the charcoal was ready. The completed charcoal was usually doused with water to cool it down, although it had an annoying habit of catching fire again while being hauled to the Nicholia Smelter. Pearl noted that the wagons used for charcoal hauling in Birch Creek Valley were designed so a horse team could be released and quickly hitched to the side to tip over the wagon and dump the charcoal if a fire started.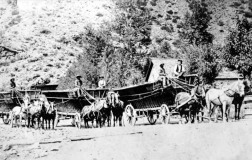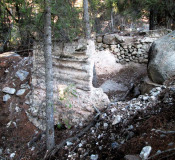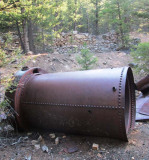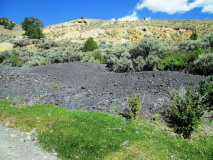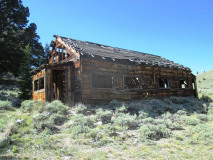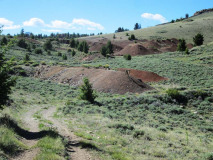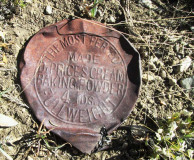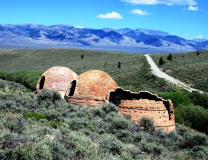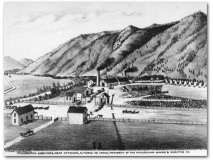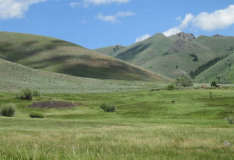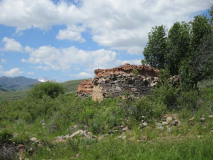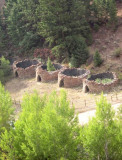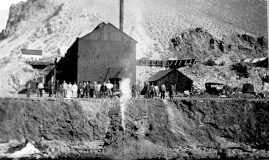 There seems to be little in written Idaho history about the folks who made charcoal for smelters, but histories of a lead/silver boom in the 1870s around Eureka, Nevada, indicate that an estimated two thousand Italian "carbonari" or charcoal-makers worked nearby. They learned their skills in Switzerland or northern Italy before immigrating to the U.S. Carbonari kept plenty of dust atop their pits to patch any area that might vent and destroy the woodpile. Periodically, they would climb a crude ladder to look for weak spots, but as the wood charred, air pockets developed, making this a dangerous task. More than one charcoal-burner disappeared while inspecting his pit.
Pearl Oberg's book is the only source I have found that identifies charcoal-makers in Idaho as Italians, although an August 18, 1882 article in Hailey's Wood River Times mentions that the railroad contractor building the Oregon Short Line (OSL) spur between Shoshone and the Wood River Valley had just hired a thousand Italian laborers after discharging its Irish workers, who apparently did not fare well amid the dust and lava rock. I think it's likely that some of those Italians sought employment at the many Idaho charcoal kilns after their railroad contracts expired.
After my charcoal pit finds in Italian Canyon, I drove to the west side of Birch Creek Valley, the locale of spectacular brick charcoal kilns up the aptly named Charcoal Kiln Canyon. Constructed in 1883 of locally made brick, the original sixteen twenty-foot-tall kilns have been reduced over the past one hundred and thirty years to four, which remain in a state of what I hope is arrested decay. Pearl's book mentions that once the cordwood inside the brick kilns was set on fire, if oxygen flow was cut off too soon, the top of a kiln could blow off. A nice interpretive site for these kilns was created by the Forest Service in the 1990s, complete with trails and signs, although the latter are now in a state of decay that is unarrested. Nevertheless, this visually spectacular site is certainly the best-preserved example of the few remaining 1880s charcoal kilns in Idaho.
By the late-1870s, quartz gold deposits, sometimes with huge amounts of silver, had been hard-rock mined in Idaho for about fifteen years. Meanwhile, rich deposits of silver-lead ore had mostly been ignored, since the stamp mills and mercury-amalgamating processes that worked to recover gold and silver failed to recover much from rich ores that were a mixture of silver, lead, and often zinc. However, mining experts noted that new smelting processes used on silver/lead ores in central Nevada were making money for mine owners, especially around Eureka, where sixteen smelters were cooking rich amounts of liquid silver and lead out of ore. Much had been learned about smelting silver-lead ores in the few years since 1869, when Idaho's first small smelter outside Pioneerville, near Idaho City, failed to profitably treat silver-lead ore mined in the area.
Successful silver-lead smelters usually processed ore that had been crushed in a stamp mill and concentrated by Frue Vanners or similar machines that used water, shaking, and gravity to separate the heavier lead and silver minerals from the waste rock or gangue that had encased them. The concentrated ore then was sent to a smelter. Coke, which is made from coal by heating it in a zero-oxygen environment, was the best fuel for making smelter-furnaces hot enough to liquify the ore being smelted, but because coke was shipped west from Pennsylvania, smelters without a railroad connection generally could not afford to use it. Idaho's earliest successful smelters at Clayton and Bayhorse briefly had coke shipped in but were forced to switch to less expensive, locally made charcoal.
Under good conditions, thirty or more bushels of charcoal might be needed to reduce one ton of ore. A cord of wood produced twenty-five to thirty-five bushels of charcoal. The average price for charcoal in the late- 19th Century West was about twenty-five cents per bushel, which often represented a smelter's single largest operating cost. Iron ore and limestone were usually also required as "flux" to help melt the ore. Large smelters that could process ores from a wide range of silver-lead mines were the most profitable, but that lesson was often ignored in Idaho.
The first Idaho smelter to be somewhat successful was built at South Mountain near Jordan Valley in 1876. Four years later, smelters were constructed at Bayhorse and Clayton near Challis. They were followed by three in the Wood River Valley between 1880 and 1881, another at Muldoon north of Carey in 1882, a copper smelter at Cliff City west of Mackay in 1884, and three in the Birch Creek Valley. The first of those was at Hahn, which actually had smelters twice. Nicholia's smelter came next in 1885, and three years later a copper smelter was built in Copper Basin near the head of the East Fork Big Lost River.
Most of these early Idaho smelters failed to turn a profit and soon closed, but the one at Clayton ran for about a hundred days each year until 1914. All those smelters have pretty much disappeared except for slag piles, although the remains of an old furnace, a smokestack, and substantial stone walls can be seen at Cliff City. The Philadelphia Smelter, the biggest such facility, was on the west side of Big Wood River just west of Ketchum, which is now the site of a subdivision. Its large slag pile on the east side of Big Wood River was removed for a parking lot and YMCA. Minor fragments of the stone walls of the smelter still remain. The Philadelphia Smelter had twenty-one charcoal kilns, and also bought charcoal from the operators of numerous nearby pits, and eventually brought in coke. The smelter received lead/silver ores from most of the mines in the Wood River Valley, as well as mines at the head of the Salmon River, on Carrie Creek west of Ketchum, and at the head of the Big Lost River. It brought in iron ore and limestone from nearby mines to make the smelting process more efficient.
An article in an 1886 issue of The Mining and Scientific Press estimated the Philadelphia Smelter's expenses for those materials and charcoal ran at $11.50 per ton of ore smelted. This would have allowed mine owners a decent profit on ores that averaged one hundred ounces of silver and forty percent to sixty percent lead. One year, the Elkhorn Mine near Ketchum yielded $161,841 on ore sold to the smelter for a cost of only $35,372. But plunging prices on silver and lead led to the Philadelphia Smelter's permanent closure in 1892.
I made another try to drive to the rich Viola Mine and its smelter, this time avoiding the steep hike up Edelman Canyon. I drove north of Nicholia up a rough road to Willow Creek but was stopped by two large and stern "No Trespassing" signs. The only alternative road led me back to an open gate at the northern end of Nicholia Ranch rather than the southern end, which had the "No Trespassing" sign. I had first visited here in 2011, and remembered there was a wooden sign that asked visitors to drive slowly and stay on the road through the large private property. I now drove very slowly through the ranch until I saw an open gate and a small sign that read "Viola Mines." I felt grateful to the ranch owners for allowing public access to this historic spot.
The road was rough up one-third of a mile to the slag pile of the Nicholia Smelter, which is all that remains of that 1880s industrial complex, and then it was a white-knuckle 4WD effort for this geezer up many switchbacks to a ridgetop at 8,800 feet, where the remains of the Viola Mine are. It really wasn't dangerous, though, except for an early narrow and tilted section of road that was made narrower by a washout. It even had Forest Service signage. The numerous large dumps of the Viola Mine straddle the ridge. Most of the mine dumps are on private patented claims and several prominent "No Trespassing" signs discouraged me from inspecting those dumps. I parked for the night on marked Forest Service land and hiked down to inspect cabins that still stand from mining in the 1920s. A breeze cooled down the hot day in the evening, and I was not disturbed by mosquitoes, flies, ghosts, or county sheriff's deputies.
The Viola strike was made accidentally by horse wrangler William McKay in 1881. It took him a few weeks to realize the heavy mineral he discovered was lead, but with the help of a new partner he returned to the area and started digging out rich, powdery lead/silver ore that most likely was cerussite, also called lead carbonate or sand carbonate. The ore contained an average value of sixty per cent lead and twelve ounces of silver per ton. The ore body was large, soft, easy to mine, and easy to smelt: a mine owner's dream. McKay named the mine Viola to honor his girlfriend, who promptly married another man. Convinced that the ore was in limited supply, McKay sold the property later that year for six thousand dollars to a Captain Rustin of Omaha, Nebraska. Mining began in 1882. The ore was hauled by wagon about sixty miles to the railroad at Camas (between Idaho Falls and Dubois) and sent from there to smelters in Kansas City and Omaha. During the mine's first year, a shaft was sunk 120 feet. The following year, after Rustin had spent seventeen thousand dollars developing the Viola, he sold it to another company for $117,000.
By 1885, a smelter had been built near the Birch Creek Valley floor north of the Viola mine, and a tramway was established to transport ore down about seventeen hundred vertical feet to it. Pearl Obeg writes that because of the tramway's one-and-three-quarter-mile length, several stations were required along the way, where ore was dumped into chutes and then redirected into buckets on a new section of cable. The ore was so soft and pure it did not need to be crushed or concentrated, although amounts of locally produced iron ore and limestone were added to the ore and charcoal for more efficient smelting. At that time, most smelters in the west were run by Cornishmen, who had a wealth of experience from working in British ore smelters, widely regarded as the best in the world. Smelter managers used everything but witchcraft to make the smelting process more efficient for ores that were often greatly different from mine to mine. After the ore mixture had liquified, the heavier lead and silver sank to the bottom and slag floated to the top and was skimmed off and discarded. Smelter slag is usually a mixture of iron and silica, and a black slag pile is often all that remains at most early Idaho smelters. However, a fair amount of Viola smelter slag was hauled off for reprocessing in the late 1940s and 1950s, because the relatively inefficient 1880s smelting process left some valuable lead, silver, and zinc in the slag.
Early in 1888, the Viola ore body began to run out. A collapse in silver and lead prices increased the company's difficulties in meeting operating costs, and efforts to cut mine wages failed after a strike. In addition, a fire burned the hoist and shaft timbers. Discovery of ore on the adjacent Salmon lode and the purchase of ore from mines in the surrounding area kept the smelter running into 1889 but operations were discontinued the following year and equipment for the smelter and mine was sold. The town of Nicholia (named for the mine manager) was totally dependent on the mine, smelter, and charcoal workers, and it soon turned from a boomtown into a ranch.
In 1905, the Viola Mine reopened, and it continued to be worked off and on through the 1950s, but no discoveries ever equaled the value of the original lode. In 1913, USGS geologist Joseph Umpleby estimated the value of ore produced by the Viola Mine at two-and-a-half million dollars. Adjusted for inflation, that would equal about sixty-eight million dollars today.