On the Smokechasers' Trail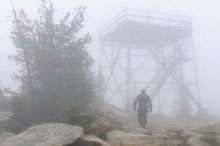 Training for a 30k Run
Story and photos by Kimberly Shepard
A chilly wind that traveled through the early July air brought billowing clouds of fog with it. I stood looking skeptically at a muddy path that led steeply upwards through burgeoning underbrush. "Are we sure this is the trailhead?" I asked, casting a sideways glance past the parking area where a wide, gently sloping path opened up. My husband Dan peered at a GPS.
"This is the path that leads to Lookout Lake, then on to the towers. This is the trail you had in mind," he confirmed. "If we can see the lake," he added in a murmur, looking around at the thick fog.
Dan said "towers" because two fire lookout towers stood on the 7,200-foot summit of Lookout Mountain in the Selkiks, where we were headed: the original one built in 1929, which is on the National Historic Lookout Register, and its replacement, built in 1977.
Months earlier, my notion to hike Priest Lake's trail to Lookout Lake and Lookout Mountain had begun germinating. I had received an email that advertised the Smokechaser footrace, which would take place on Lookout Mountain in September, with five-kilometer and thirty-kilometer distance options. In the past I had run triathlon, duathlon, and Spartan (sprint distance) races but trail running was a sport I had yet to try. The advertisement had also sparked my curiosity about the deep history of the mountain's lookout towers and the firefighters who had staffed them in the early years of wilderness firefighting. Digging further, I went online to read about the brave lookouts and smokechasers who ran the mountains in their heroic efforts to protect communities from the devastation of wildfires. I was regaled with a history I had been largely unaware of. Fascinated, I made plans to follow a path that led past Lookout Lake and went on to the towers. Although this route differed somewhat from that of the race, it was a trail that lookout staff and supply crews were said to have used for many years. Online hiking reviews sang praises about the trail's fantastic scenery and I was game to try it out.