On the Water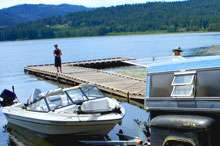 Looking for the Magic
Story and Photos by Gina Hill
I just want to be on the water," has become what my husband Smiley and I refer to as Conversation #51.
Some time during our forty years together, we began numbering our most-familiar conversations, saving time that otherwise would be spent repeating each of our default phrases. At first, such dialogues drove me to a craving for peanut butter bars, but after we initiated the numbering system, midway through the first sentence of any difficult-to-listen-to-again dialogue, we'd realize what was happening, refer to the appropriate number, and go on with our day.
Conversation #51 has been occurring frequently of late, as has checking "For Sale" listings for inexpensive boats. After our recent move to northern Idaho, Smiley began raising the water level of local rivers and lakes with his drooling. He told me that his legal name, Carlton, meant "Land of Lakes and Rivers" in Gaelic. His dream of owning a boat was never a secret. He spent much of his youth exploring Puget Sound with his dog, messing about in his dad's fourteen-foot aluminum boat—fishing, scuba diving, and investigating tide pools. He loved the water then and still does.
He shows me pictures of older ski boats for sale, expounding on the pros and cons of each, while looking for his dream boat. Not only are vintage boats and cars cool, he points out, they're cheaper.
If the magic of being on the water proves to be half as much fun as our motorcycle trips used to be, I'm on board. We've been missing our biking adventures since selling the motorcycle. I'd climb onto the co-rider's seat, wrap my arms around Smiley, lean into the turns on twisty roads, and watch the eagles soar over us. The feeling of freedom without a cage of metal enclosing us was intoxicating. Was it possible being on the water could match that? I was game to give it a try.
He asks friends if they know of anyone getting rid of an older boat. One day someone says, "A friend of ours recently passed away and his son, Richard, wants to sell the old man's boat."
When Smiley places the call, Richard says, "The boat is needy." Emphasis on "needy."