On Your Mark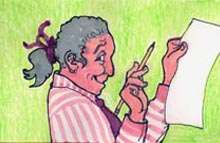 The First Position Not Taken
By Steve Carr
Do you ever wonder if you missed your calling? If a simple decision redirected your fated path or closed the door to what may have been your passion?
The Navy came calling during my second year of law school: see the world as a judge advocate general, wear a cool uniform and cross-examine Jack Nicholson in Tom Cruise-like fashion. The first step was a physical in a gym downtown.
So there I stood in my underwear, ("skivvies," my WWII Navy veteran dad would say) along with twenty or so soon-to-be-enlisted nineteen year-olds. I was the only one there looking for the fast track to officer training.
A London-postbox-shaped man, his countenance about the same color, appeared before us. I should have known the meaning of the insignias on his shoulder, but didn't. No matter, he was obviously a sergeant. He pointed to the center court line on the basketball floor and distinctly ordered us, "Stand on that line."