Our Tuscany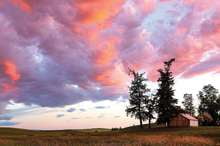 Decades of Love for the Palouse
Story and Photos by Nita Robinson
For years, Nita Robinson has contributed painterly photographs to IDAHO magazine's Facebook page, which displays beautiful images taken by our followers around the state. One of Nita's favorite topics is the Palouse, the rolling wheat-growing region in north-central Idaho where she lives. We recently asked her to write for the magazine about her long-held attraction to the place.
When I close my eyes and think of the Palouse, thunder and lightning storms light up the undulating hills in electric colors. Crops blow heavily in wind that sometimes howls through the little valleys in the hills. Gorgeous sunrises and sunsets illuminate crops that start out barely there and grow into perfect incarnations of nature and nurture. New snow accumulates in silence on a winter morning. I drive the hills and curves of back roads, and the trailing dust makes me think that having to wash the car again will be OK, so long as I can travel here again. Over every hill and around every bend, I take on the moods of the Palouse, and we are one.
I came to Moscow in 1968, the year it had the coldest recorded temperature in its history of forty-two degrees below zero on a day in December. This move from Sandpoint was a good one for me, as I met and married a born-and-raised Moscow native, George Robinson. We live near the University of Idaho Arboretum in a geodesic dome that George built. My intention was to honor his time and talent by presenting him with a plaque to place on the finished house that would read: "The house that George built: 1981, 1982, 1983, 1984, 1985…" You get the idea, and "2022" would not be out of line in this list. In spite of no official finish date for our home, we have loved raising our daughters in it.