Pear and Brocolli Soup/Potpourri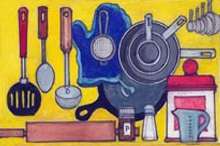 By Amy Story Larson
Pear and Broccoli Soup
INGREDIENTS
2 heads broccoli, chopped finely
2 pears, diced
1/4 c. dried cranberries
1 onion, finely chopped
3-1/2 c. vegetable stock, hot
2 Tbsp. olive oil
1/4 c. chopped walnuts
3/4 c. bleu cheese, crumbled
Crumbled bacon, optional
PREPARATION
> Place all ingredients except cheese and bacon into crock pot. Let simmer for 4 hours, or until veggies are tender. May need to add more liquid. May blend all into a smooth soup, or leave pieces intact.
> Top with cheese and/or bacon, perhaps some parsley to brighten taste.
NOTE: When I visited Finland, I noticed they used pears as we would apples. They had pear drinks, gum, licorice, everything. This recipe is a nod to our Finnish population (have you visited Roseberry, near McCall?) and to the pears they seem to revere.
Stovetop Potpourri
INGREDIENTS
2-3 apples, small work best. You may also use apple peel.
Spices of your choosing, which may include: cinnamon, anise, allspice, cardamom, cloves, nutmeg, vanilla beans, apple pie or pumpkin pie spice
Citrus peel- lemon, orange, tangerine, or a combination
Water, enough to keep items off the bottom of your pot
PREPARATION
> Add all ingredients to a pot with enough water to cover, then simmer at low heat on stovetop and enjoy. Make sure to keep adding water—and never leave home with potpourri on the stove or leave it unattended.
NOTE: I've been studying the art of hygge lately. It's becoming a popular word and idea these days, although I heard it ages ago from Cathy O'Connell Iliff, the owner of the former La Belle Vie restaurant in Nampa. She told me I possessed this quality, and I had to go look it up. Hygge is a Danish/Norwegian word for a mood of coziness and comfortable conviviality, with feelings of wellness and contentment, and this potpourri reminds me of it.