Pelicans Overhead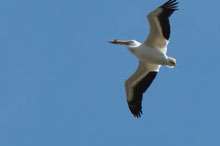 A Wondrous Sight at Box Canyon Springs
By James Blue
When the five of us, most of whom were practically strangers, embarked on our backcountry journey deep into Hagerman Valley, little did we know what awaited.
We were headed for Box Canyon Springs Nature Preserve, about twenty miles northwest of Twin Falls, near Wendell.
We all had met by way of an online "hiking interest" group. J.R. (the host of our group) posted the day trip as a chance to witness the eleventh largest spring in North America and the possibility of seeing some unique wildlife. Being somewhat new to Idaho by way of Indiana, I jumped at the opportunity to explore the rugged southern Idaho backcountry. Doug, Lisa and Mindy, the other members of the group, expressed similar excitement at the chance to see what hidden treasures might await at the canyon.
I admit that my first impression of the park, especially the flat stretch of trail leading to the spring from the parking lot, was underwhelming, to say the least. A few of us commented on how unremarkable the surrounding landscape was as we approached the park along county roads, passing large cattle ranches and farms. "So, this is it?" someone said in a rather disappointed tone as we pulled into the parking area. But after a walk of a mile or so along a well-traveled dirt road, everything changed dramatically.