Pigs in Harness
Who Was the Wag Named Arthur Brissette?
Photos courtesy of Ralph Allen
When a Boise couple dropped by IDAHO magazine's office recently, the topic came up of the quirky pig postcards on these pages. Ralph Allen mentioned he had compiled a collection of about 2,800 Idaho postcards, including several of "The Cottonwood Pigs." He didn't know who the driver of the cart was, other than the name "Prof. Arthur Brissette," but we agreed with him it was someone with a good sense of humor.
Ralph, an architect who spent much of his career in historic preservation for NASA in Alabama, began collecting postcards about thirty-five years ago in that state. He and his wife Linda now split their time between Idaho and Alabama.
Doing his bit for Idaho history, Ralph gave us permission to publish these images from his postcard collection showing not only the pigs but other Cottonwood scenes back in the day. But the question remains: who was Arthur Brissette?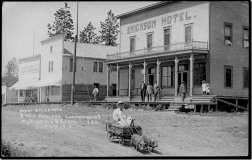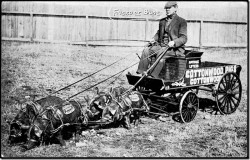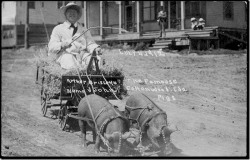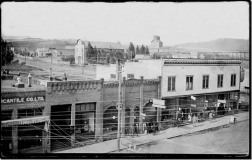 At the Museum of St. Gertrude in Cottonwood, staff member Debra Graham was familiar with the postcards and said she had "looked high and low" for information about the pig-driver, but didn't come up with much. It seemed he liked to move around, living in boarding houses. He spent time in California, Montana, Idaho, and Washington state, where he died. He married late in life and didn't have children. Debra found no evidence that he was a professor and she suspects he was a farmworker.
The 1910 and 1920 censuses show no record of him in Idaho, and Cottonwood didn't have a census in 1905. "About the only reason we know he was in Idaho was because of those pictures," Debra said. The postcards are dated 1912.
She did discover that the pigs' harness came from a harness-maker who lived in the same boarding house as Arthur. But other than her opinion that he was a handsome young man, Debra had no more pieces to the puzzle.
"He was good-looking mystery man," she offered, "you can put that out." — The Editors