Cake on a Bottle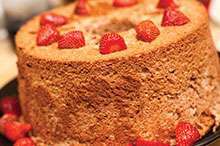 A Young Farmwife Confronts Cooking
By Diana Hooley
Before I married an Idaho farmer, I could bake a potato but couldn't make potato salad, or funeral potatoes, or potato cakes (which sounded a lot like dessert to me). Dale, my husband, said he liked fried chicken so I tried to replicate an Idaho version of fast food chicken-in-a-box. I bought a pack of cut-up chicken pieces at the supermarket, coated them with a couple of beaten eggs, and then carefully turned each gummy chicken piece in flour. Next, I went to the cupboard and shook every can of spice I had (except the cinnamon and cloves) over the chicken sizzling in the pan. This was at our first home on the outskirts of Boise.
"When we move to the farm, maybe we should raise our own chickens," my husband said thoughtfully as he sat at the table waiting on supper.
"Maybe not," I murmured under my breath as I stood at the stove thinking, one thing at a time: first learn to cook the chicken, then learn to grow the chicken.
I was surprised it took only about five minutes on each side to get the chicken pieces looking brown and crisp. Soon, I forked a couple of pieces on a melamine dinner plate (we'd splurged and bought a set of them at a discount department store). I felt a little proud serving a plate of my home-fried chicken to my new husband. I tried not to hover—but a high-stakes poker game would have had less tension.
Dale stabbed a chicken breast with his fork and started sawing with his knife. Beneath the nice brown crust the meat was … fleshy and pink. What? It was supposed to be juicy and white. The situation took a turn for the worse when I saw a streak of blood appear where he'd cut into his drumstick. He'd struck a gusher. Humiliated, I swept a hand down to retrieve the plate. I wasn't about to give my new husband salmonella. We had a tug of war. He refused to give up the chicken dinner his wife had prepared for him. Horrified, I watched as he chewed through the bloody chicken drumstick like a vampire on a binge.
"It's not so bad," he said, trying to smile. "Tastes like . . . well . . . chicken."