Plumb Loco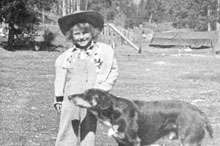 Leviathan versus Gnat
By Karen Ketchie Davidson
In the late 1940s, on an early summer morning in a narrow, isolated mountain valley of central Idaho, the morning is dark and cold as usual, until the moment when the light appears over the ridge and a million diamonds sparkle on the trees as the dew catches the rays of the sun.
The deep shadows are instantly erased and the long grassy meadows are exposed. Yellowjacket—the lake, the creek, the ranger station and the mine in what is now the Salmon-Challis National Forest—hold fascination for prospectors, hermits, fishermen, and children like me at the time. William Studebaker, the late Idaho poet and writer, spent his first summers at the ranger station, just as I did. There is a cold creek to be waded, fish to be caught, snakes to be poked, deer to be watched, and sagebrush-lined animal trails to be climbed. There is a high wooden swing in the yard, and there are horses and mules. The sounds of whinnying and braying, the ring of the bell on the lead mare, the buzz of horseflies—it's a place just waiting for stories to be written about it.
On this particular morning, the ranger station is preparing the pack string for a trip along the Middle Fork of the Salmon River. The narrow dirt road ends a few miles down, at the Yellowjacket Mine, and from there, the trip will be by trail. The men on the summer crew bring the mules from the corral to the front of the compound. One by one, they line them up in specific order, each loosely roped to the next in line. The mules twitch their ears irritably and look around with suspicion. They know that their lazy days in the pasture have been interrupted.