Potato Salad/Lemon Razz Fizzy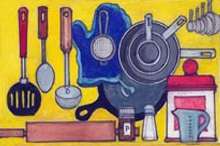 By Amy Larson
Bacon Bomb Potato Salad
INGREDIENTS:
1 1/2 cups crispy cooked maple smoked bacon
2 bunches green onions
2 lbs.potatoes
1 Tbsp. minced garlic
1 (1 ounce) package ranch dressing mix
¼ tsp. coarsely ground black pepper (optional)
Pinch of cayenne (optional)
1 1/2 cups extra sharp cheddar cheese
1 (16 ounce) container sour cream
PREPARATION
Cook the potatoes, combine all ingredients, and chill until ready to serve. Garnish with a handful of chopped green onions and paprika, if desired.
Note: This would be a good one to take up to Idaho City. When I went up there for a get together a few months ago, dish after scrumptious dish was brought into the room we were gathering in.
"This is just what we do," the locals told me, "we potluck."
They also shared that a lot of the women now meet for yoga, and that there are multiple dogs that frequent the taverns that are trained to collect tips. Whether those tips make it back to the counter remains to be seen.
I love small town Idaho!
Lemon Razz Fizzy
INGREDIENTS
1 lemon, sliced
1 (6 ounce) can of frozen concentrated lemonade
One 2-litre bottle of ginger ale
24 ounces frozen raspberries that have been thawed, but left undrained
Crushed ice to taste
PREPARATION
Combine all ingredients, add ice to the extent of your tastes and the heat outdoors. This one can be made ahead of time, garnished with the lemon slices and ice when ready to serve.
Note: This is the perfect drink to sip somewhere fun, like Wendi and John Combs' front porch in Pine, Idaho.
Even though the "front" porch of their cabin is located in the back, John insists it's the front porch, because it faces the showpiece, looking over the bluff at Anderson Ranch.
From the "front" porch at the Combs' Cabin, I've seen pronghorn, all sorts of birds, tons of deer, and sunsets that defy description. It's been the site of many a conversation and laugh.
In the morning, we sip hot, fragrant tea as John makes the cabin's guests his famous blueberry pancakes.
After a day of boating, fishing, and touring around on ATVs, this Lemon Razz Fizzy would be just the thing.