Pumpkin Cobbler/Olive Cheese Dip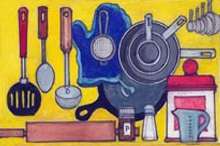 By Amy Larson
Cascade Pumpkin Cobbler
CAKE INGREDIENTS
1 1/4 c. flour
2 tsp. baking powder
1/4 tsp. salt
3/4 c. sugar
1 tsp. cinnamon
1/2 tsp. nutmeg
1/4 tsp. ground cloves
1/4 tsp. ginger
1 c. canned pumpkin
1/4 c. oil
1 tsp. vanilla extract
1 tsp. almond extract
SWIRLED FILLING
1 c. brown sugar
1/2 tsp. cinnamon
1/3 tsp. nutmeg
1/3 c. chopped pecans or walnuts
1 1/2 c. hot water
PREPARATION
Blend flour, sugar, baking powder, salt, and spices in a bowl, then add pumpkin, oil, vanilla, and almond extracts.
Grease a 9" square pan, spread mixture into base.
In another bowl, combine brown sugar, cinnamon, nutmeg, and walnuts, and distribute evenly on top of the batter, then pour hot water over all.
Bake at 350° for about 50-60 minutes. Cake-like texture will rise, with a sauce underneath.
This dessert rocks with old-fashioned vanilla-flavored or maple nut ice cream scoops atop it.
Note: Beautiful Cascade has my heart on so many levels. Having stayed in clean, modest lodges and elegant inns alike up there, I've walked The Strand (Cascade's version of the Greenbelt along the river, leading to Kelly's Whitewater Park and beyond, complete with river sayings like "go with the flow" along the way), and enjoyed many a satisfying brunch at the various local restaurants. Last summer I sat in a football field after an art festival, listening to an outdoor concert. The band was playing "Take Me Home, Country Roads", and as I sang along, Cathy of the Cascade Arts community wandered by. We laughed and sang in two-part harmony, jokingly discussed putting an act together, and agreed that all music sounds amazing in the open air.
Becoming instant "family" with Cascade friends Katrin and Ashley Thompson, Sharon Bixler, Margie Cook (who actually is family, a cousin), and others makes the drive up 55 so worth it.
*Variation of recipe found at creationsbykara.com
Round Valley Olive Cheese Dip
INGREDIENTS
8 oz. cream cheese, room temperature
1 c. shredded Monterey Jack cheese
1 c. shredded sharp cheddar cheese
1/4 c. Hellman's Real Mayonnaise™
1 c. green olives, diced
1 c. black olives, diced
1/3 c. Kalamata olives, diced (optional)
1 clove garlic, minced
1 tbsp. red pepper flakes (adjust to taste)
PREPARATION
Preheat oven to 350 degrees.
Combine all ingredients in a large bowl.
Evenly spread all into baking dish, and bake for 15 minutes until melted, heated through and a little crust forms.
This is tasty served with veggies, tortilla chips, or crackers.
Note: A few years back, I traveled with Janet and Nick Hobbs to Roseberry's famous Ice Cream Social. On the way back to Boise, we saw signs for a Bluegrass Festival at Round Valley. Turning left off Highway 55, we crossed a bridge and passed multiple charming cabins. Which got us all talking about how fun it would be to have a place in that area.
After literally going over the river (or creek) and through the woods, we came upon a clearing in the trees, a stage, food vendors, and dozens of tent and RV campers. As we munched on lunch, we sat in the sunshine on lush green grass and listened to some mighty fine bluegrass. It all seemed so magical, discovering a random bluegrass festival as the grand finish to our day trip. I can't pass Round Valley to this day without thinking of our musical adventure.
*Variation of a recipe found at bunsinmyoven.com