Pumpkin Soup/Fruit Enchiladas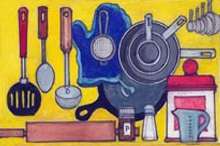 By Amy Larson
Pumpkin Caliente Soup
INGREDIENTS
2 Tbsp. sweet cream salted butter
2 Tbsp. flour
4 c. beef, chicken, or vegetable stock
1 large can of pumpkin puree (29 oz.)
2 or more chipotle peppers in adobo sauce, according to taste
1 ½- 2 c. half-and-half
2 tbsp. sofrito*
1 Tbsp. Worcestershire sauce
1 tsp. salt
1 tsp. or more of paprika, according to taste
PREPARATION
In large saucepan using medium heat setting, melt butter, then blend in flour. Cook until combination is a golden brownish color, just a few minutes. Gradually add in stock, then turn heat to high setting and bring mixture to a boil. Add in pumpkin, whisking to ensure no lumps. Add chipotles, sofrito, Worcestershire, half-and-half, paprika, and salt. Allow to simmer, reducing heat setting to medium-low. Cook for 8-10 minutes until texture thickens. Prep time: about 20-30 minutes
This can be topped with a dollop of sour cream, cilantro, or finely cubed avocado.
*Sofrito is a Caribbean, Spanish, or Portugese sauce comprising garlic, onion, paprika, peppers, tomatoes, herbs, and a bit of olive oil , frequently used in Latin American-style cuisine, and found in stores that carry Puerto Rican foods.
NOTE: I love the emergence of pumpkins being used in savory dishes. When attending the Sun Valley Harvest festival last year, pumpkin was being incorporated onto pizzas, in tacos, in ravioli; we foodies saw it everywhere. It's not just for pies anymore, although the sacred traditional pumpkin pies are among my favorite fall treats, too.
Fall Fruit Enchiladas
INGREDIENTS
1 large can of apple (or other fruit) filling, about 21 ounces, or use your own homemade filling on hand
Half dozen 8" flour tortillas
1 tsp. cinnamon (or more, depending on taste)
½ c. white sugar
½ c. brown sugar, packed
½ c. water
1/3 c. sweet cream salted butter
PREPARATION
Get that oven ready by turning the heat to 350. Fill tortillas with fruit filling, then sprinkle the cinnamon over the filling. Roll up your tortillas, making sure to put the ends side down so it won't unroll on the greased, 8" x 8"baking pan you're placing them into.
Put butter, water, and sugars into a medium saucepan and bring to a boil. Once aromatic mixture is boiling, reduce heat and let it all simmer for a few minutes.
Now take that yummy, carmelized sauce and pour it over the tortillas with no small amount of decorum. You might even want to call in witnesses from the other room. Lightly sprinkle some more cinnamon over your masterpiece, then slide the dish into heated oven for 20 minutes for the final effect.
These will make large servings. If split in half, you can impress a dozen people. Top them with real whipped cream or vanilla ice cream. Prep time: about 35 minutes.
NOTE: Seems like the perfect recipe to try out on hungry fall yard cleanup crews, aka the fam.
These recipes are brought to you by THE IDAHO DAIRY COUNCIL.