Quick to Shovel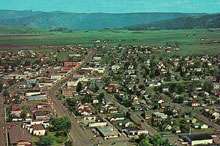 The Curb Ditch Project
By Max Jenkins
In the spring of 1958, I finished my sophomore year in pharmacy at Idaho State College in Pocatello and returned to my folks' home on the south side of Grangeville. A month earlier, I had purchased an engagement ring and asked my girlfriend of two years, Jean Byars, to marry me. She said yes. Our wedding, which was planned for the Sunday before the college's classes started up again in the fall, would be followed by a two-day honeymoon in Salt Lake City.
Jean and I were both very independent and wanted to finance our educations without incurring debt. My dad earned the funds for all of his education when he was a young family man. I figured if my parents could pay for Dad's schooling, then I could, too. When several of our friends got married, the new wives quit school and worked. I promised Jean she would graduate from college.
Over the last three summers in Grangeville, I had worked at a swing-shift sawmill job, which I already had arranged to do again this summer. I knew I was blessed with stamina and needed less sleep than most people, so I also got a job at a construction site, moving wheelbarrows full of cement. That work started at 7 a.m., which allowed me a half-hour to drive home and pick up a night lunch Mom prepared for me to eat at the sawmill job. I had worked at the drug store during high school, and now I started putting in seven hours there on Saturdays plus three hours on Sundays. In total, it was an eighty-seven-hour work week.