Red Velvet French Toast/Crepe Squares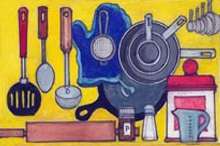 By Amy Story Larson
Riggins Red Velvet French Toast
FRENCH TOAST INGREDIENTS
4 large eggs
1 c. buttermilk (can add 1 tsp. lemon juice and allow to 'cure' for several minutes) or heavy whipping cream
2 Tbsp. sugar
2 tsp. vanilla extract, or 1 tsp. vanilla and 1 tsp. almond extract
2 Tbsp. cocoa powder
1 Tbsp. plus 2 tsp. of red food coloring
8 slices of regular or French bread, you could halve these
PREPARATION
> Blend eggs, buttermilk or heavy whipping cream, sugar, vanilla and/ or almond extracts, and food coloring until smooth.
>Put into a bowl and dip bread into mixture, making sure it's saturated fully. Flip over to ensure this.
>In a large pan over medium heat, place 3-4 pieces of bread, turning only once.
FILLING INGREDIENTS
8 oz. full-fat cream cheese
2 Tbsp. granulated sugar
1 tsp. vanilla bean paste, or 1 tsp. vanilla extract
Fresh raspberries, strawberries, blackberries, blueberries, pitted or maraschino cherries, lingonberries, etc.
PREPARATION
> Blend cream cheese, sugar, vanilla paste or extract in a bowl, then use electric mixer to whip until smooth and fluffy.
> Evenly spread mixture onto French toast, top with another halve to create a sandwich. Garnish with remaining cream cheese, melted chocolate, powdered sugar, sprinkles, mini chocolate or white chocolate chips or chocolate shavings, then top with pretty berries.
NOTE
Mother's Days out at the Lakeshore Home by Lake Lowell in Nampa were heaven. We could hear the water lapping the shore across the street and down the pathway from our front porch, the clear scent of spring was in the air, and Sundays were for four-wheeler trips down dirt roads.
My daughter Erika would climb onto the ATV we both called "Old Trusty" and hold onto me with her tiny arms, while her older brothers, Taylor and Jared, rode an ATV and dirt bike, respectively.
We went past farms, residences, nurseries, and barking dogs as the sun set on the fields and lake below. Often we'd laugh about keeping our mouths shut when going through a "fog of gnats".
We waved to neighbor Sherri, Grandma Jean, and others as we savored those magical Sunday evenings by the lake. Such moments were the epitome of motherhood for me, because they were all about being together.
*This is a variation of a recipe found at cafedelites.com
Emmett Ham and Egg Crepe Squares
1 c. flour
1 Tbsp. sugar
1/4 tsp. salt
1 1/2 c. milk or heavy whipping cream
4 large eggs
3 Tbsp. melted butter
9 thin slices honeyed or black forest ham
9 eggs
Chopped fresh parsley or cilantro
Optional: powdered garlic, fresh black pepper, chili powder, cinnamon, cardamom, paprika to taste; makes 9 crepes
PREPARATION
> Melt butter, then add into flour, sugar, salt, milk, any desired seasonings, and four of the eggs. Blend with electric mixer.
> Over medium heat, place 1/3 of the batter into a large, buttered skillet. Cook until golden, approximately two minutes.
> Heat a 12 inch non-stick skillet over medium heat and lightly coat with butter. Add 1/3 cup batter and swirl to completely cover skillet. Cook until underside of crepe is very lightly starting to brown, about 2 minutes. Loosen, lift, and flip over, cooking 1-2 more minutes.
> Place on parchment paper, and repeat with rest of batter.
> Preheat oven to 350 degrees, and place crepes on baking sheet, putting a ham slice in center of each, and cracking an egg into center of crepe. Fold crepe edges around, utilizing the stickiness of the egg. Season with desired seasonings, and bake until eggs are done, around 10-12 minutes.
> Garnish with parsley, cilantro, a squirt of fresh lime juice, salsa—use your imagination!
NOTE
The town of Emmett is tucked into the hills in a fashion similar to the eggs in this recipe.
When wanderlust is too much to bear, a drive to Emmett seems in order, especially in the springtime. Coming over the hill into the valley, with fruit trees in their splendor and advertisements for fruit stands abundant, the downhome charm of Emmett is a heart-jerker.
I'll stop at the park, the long-time drive-in downtown that's become tradition, and circle up to Bramwell Cemetery, where I have friends who've passed, and the view of the valley is magnificent.
It's a sweet little town that always will be dear to me.
*Variation of a recipe found at framedcooks.com