Rouladen/Cottage Cheese Dip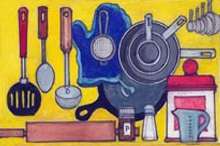 By Amy Story
Old-Fashioned Polish/German Rouladen
INGREDIENTS
6 slices beef topside
18 slices bacon
¼ cup sweet mustard
6 pickle spears
1 white onion, chopped
1 carrot, chopped
2 sprigs rosemary
2 garlic cloves, minced
1 c. red wine
2 c. chicken broth
2 Tbsp. tomato paste
Several bay leaves
SAUCE INGREDIENTS
3 Tbsp. butter
1 Tbsp. yellow mustard
½ c. (or more) sour cream
PREPARATION
> Tenderize beef until thickness is even
> Divide ¼ cup sweet mustard between the slices, brushing to coat one side
> Sprinkle with salt and pepper, then top with 3 pieces of bacon per slice of beef.
> Place pickle spears and pieces of onion horizontally onto each slice of beef, roll into a roulade, and tie up with cooking twine.
> In large skillet, heat vegetable oil to high heat then cook beef roulade for 2-3 minutes until sides are nicely browned.
> Remove rolls from the pan and set aside.
> Add additional 1-2 tablespoons of oil to pan with onion and carrots. Sauté for 2-3 minutes.
> Mix in tomato paste, garlic, bay leaves, and rosemary sprigs. Sprinkle with additional salt and pepper if desired.
> Add beef back into the skillet along with the sauce, add red cooking wine and chicken broth, reduce the heat to low, and simmer for one to two hours.
> After 1-2 hours, remove beef rolls from pan and strain sauce into a new pan, removing bits of vegetables and herbs to use later as garnish or topping on rolls.
> Add cold butter, additional mustard, and sour cream into the sauce and whisk together.
> Remove twine from beef, place beef back into pan with the sauce, and cook for an additional 15 minutes.
> Serve with a sprinkle of fresh parsley, rosemary, with a side of homemade garlic mashed potatoes.
Note: My German mother would make what she called "roulades" for us when we were children. She cooked it simply, and it was my favorite dish of hers. As my sisters and I grew older, we began to become curious about the German/Polish cooking of our youth. Not long ago, I discovered this recipe for the "world's best rouladen" and added my own little twists. It became an instant hit in our family, a recipe I'll use again and again. Enjoy.
Cottage Ranch Dip
INGREDIENTS
1 container cottage cheese
1 packet dry ranch dressing mix
PREPARATION
> Blend cottage cheese to a creamy consistency, add dressing mix, and blend again until fully mixed.
Note: I stumbled upon this recipe recently, and appreciate the rich texture while still getting my ranch dressing fix.
If you enjoyed this story, please consider supporting us with a SUBSCRIPTION to our print edition, delivered monthly to your doorstep.