Sawtooths, First Time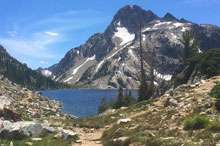 It's Not Like the Pictures
Story and Photos by Maddie Bradshaw
We drove around in the dark for what felt like hours. All the campsites were filled with people. It was around midnight when we realized we might not be able to find a spot to camp. We stopped the car and contemplated driving all the way back to Boise, which was about three hours from where we were at the edge of the Sawtooth Wilderness.
It would be fair to say we were not fully prepared for this trip.
When my boyfriend John and I considered hiking to Sawtooth Lake in mid-August of last year, neither of us had been to the Sawtooth Wilderness. We had moved to Idaho from Oregon about a month earlier, and this excursion seemed a perfect way to get to know our new home state. We were both avid hikers, although John had more experience with mountain hiking, having gone on several backpacking trips in parts of the Pacific Crest Trail. I prefer a day hike with a level of difficulty that's easy to moderate, like the one Idaho walk we had taken around the foothills of Boise.
A major reason I wanted to go to Sawtooth Lake was because of a classic photo that comes to my mind whenever I think of the Idaho wilderness. I wasn't sure of the lake's exact location but I had seen a photo of it—and knew it was one of the largest alpine lakes in the Sawtooth Range.