Schoolboy Firemen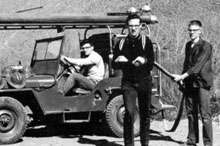 Back in the Fifties, It Was a Job for Kids
By Billy Jim Wilson
Photos courtesy of Rocke Wilson
Not long after lunch, the principal of Riggins High School, Jack Wing, came to our classroom and told me a house was afire up Shingle Creek at the Deveny Ranch, and we needed to take the fire engine up there.
This was in the late spring of 1953, my junior year in high school. I grabbed my assistant fire chief, Daryl Dubbs, from his class and we drove to where the fire engine was garaged. Four other high school boys followed us in another car. At the garage, one of them climbed into the fire engine between Daryl and me in the two front seats. The other three boys followed us as we went south out of Riggins, the siren and lights going. It was about five miles to Rapid River, a couple of miles on the gravel road upriver to the mouth of Shingle Creek, and then about two miles up Shingle Creek to the Deveny Ranch. We stopped at the mouth of Shingle Creek, and the three boys behind us parked and jumped onto the rear bumper rider of the fire engine. We hurried on up to the fire.
By the time we arrived, the house had burned to the ground, and a few ranchers were trying to prevent the house fire from becoming a range fire. A Forest Service Jeep pickup soon arrived, carrying a hundred-gallon tank of water and a pump. Daryl and I drove our fire engine down through the rocks to the creek, put our suction hose into a pond and got it ready to pump, while the other boys ran out the hose and prepared to wet down the hot ashes. Right after we got the pump going, a Forest Service worker came over and decided our suction hose ought to be in a deeper hole of the creek. He picked up the hose and flopped it over into the other hole, causing our pump to lose its prime. I tried everything I could think of to re-prime it, but failed.