Secret Places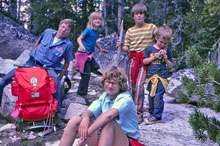 In Another Time
Story and Photos by Margaret Fuller
After a family pack trip in early August 1971, I stayed up at our cabin in the Sawtooth Valley with the kids for a week. I wanted to go to a secret place our former neighbors, the Banks, had gone with their church group. They called it Shangri-La. They said it was like Yosemite, with a very high sheer rock wall above three lakes. Most people called the rock wall the Elephant's Perch. I'm not sure now if I got directions from them or just figured out how to reach Shangri-La from the then-new topographic maps available for part of the Sawtooths and White Clouds.
We finished our family pack trip on Friday. On Sunday, as soon as Wayne left the cabin for home, I got the kids ready to go look for the Shangri-La Lakes. I took food for lunch as well as dinner, to make sure the kids would have enough energy to get to the lakes, if we could find them. The shuttle boat on Redfish Lake took about fifteen minutes to reach the upper end, where we arrived at around 10:30 a.m.
From the dock, the children scampered out and started up the trail. I can't remember now who led, but Doug was especially eager to see Shangri-La. The boys wore white sailor hats their Uncle Tom had brought back from the Navy. Hilary and Leslie didn't want to wear sunbonnets anymore, so they just had crusher hats. I had boots but the kids wore sneakers. This was before running shoes were common.