Selecting In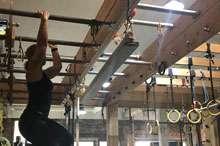 The Key to a 30K Trail Run
By Kimberly Shepard
Sometimes you don't know how you feel about an experience until it's over. Take a novel, for example: the beginning may have you rolling your eyes and questioning whether to go on. But as the story progresses and you live through hardships and successes with the hero or heroine, your view of the tale might change. What started out as tiresome might eventually win a top-shelf designation in your library. I think the same can be true of the tales of our lives: present feelings can be transformed in hindsight. That was the case when I ran the Smokechaser.
Pioneered and hosted by Priest Lake Multisports since September 2014, the Smokechaser is a thirty-kilometer out-and-back trail race up Lookout Mountain, part of the Selkirk Range at Priest Lake. Over a mixture of packed dirt road and rugged, technical terrain, the course has an elevation gain of forty-eight-hundred feet. Two fire lookout towers mark the halfway point. The expansive conifer forest and pristine, nineteen-mile-long Priest Lake provide an ideal locale to race while enjoying the beauty of northern Idaho.
Despite the sweeping wilderness, the race organizers still had to meet COVID-19 guidelines for a safe event. "The logistics of planning around COVID-related issues have been a challenge," race director Ken Eldore told me. "Race planning is a year-long process . . . Things like finisher medals, race bibs, and shirts need to be ordered months in advance of race day. Not knowing if the race would happen this year, or rescheduling the race, makes for a moving target."
My challenge was more internal than external. As I wrote in a story for this magazine about researching what it would take to run my first trail race ("On the Smokechasers' Trail," September 2020) I came to realize I had fallen out of shape, despite in the past having run Spartan sprints, which are obstacle courses, as well as duathlon and triathlon races. It later became clear that the effects of unstable employment, quarantining, and life changes brought on by the pandemic had left me a little cynical and tired. This attitude posed a challenge to my race goals.