Seven Seconds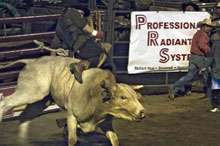 Okay, but Not Really
By Jack Goodman
Oh, by the way," my brother said, "you're entered in the wild cow riding contest opening night at the rodeo."
Rodeos are as much a part of Idaho's character as are potatoes, whitewater, and trout fishing in a mountain lake. As long as there have been horses and riders and cows in the state there have been rodeos—one cowboy or cowgirl competing against another. However, even though I was born in Idaho and raise cattle myself, I had always considered rodeo participants certifiably insane.
My brother was president of the local Optimist Club, which had been asked by the Twin Falls County Fair Board to come up with a few volunteer business people to enter the contest in an exhibition ride as part of the Magic Valley Stampede PRCA Rodeo in Filer. I figured that would be one of the more stupid things I had ever done.
"Okay," I said.
Much against my better judgment, I showed up behind the bucking chutes on opening night. There's a catwalk that goes along the back of the chutes, two or three feet from the top.
I was taken up on the catwalk and introduced to the three cowboys who were going to assist me to my mount.
"There she is, cowboy," they said.