She Made a Difference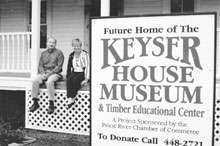 Diane Mercer, the Dynamo Who Came to Town
By Marylyn Cork
My friend Diane Mercer was a little bit of a thing, a petite bundle of energy and know-how, as busy as a hummingbird. From the time she took up residence in my hometown of Priest River in 1986 until she died twenty-eight years later, the projects and activities she took on for the betterment of the community, while also operating a business of her own, were truly amazing.
When she died on Aug.17, 2014, I was more than a little surprised to receive condolences from several people who referred to her as my "best friend." In all the years I had worked with her, I had never considered myself that. I respected, loved, and admired her, but there were others who I felt better fitted the role of her best friend. Our relationship, hers and mine, was based primarily on our mutual interest in local history. We served on the board of directors of our local museum. Together, we compiled a walking tour brochure of the town's historic district, published two local history books, collected and catalogued an immense collection of historic photographs, and otherwise promoted local history in every way we knew how.
Even when I stopped by her store to share a cup of coffee with her, as I often did when I was in town, little passed between us of a strictly social or personal nature. I didn't ask many questions about her life before she came to Priest River, and she only rarely dropped a tidbit here and there. My friend was a complex, private personality, one who I now suspect must have been intensely hurt at some time in her life, to the point that she never really trusted anyone with her private self. It must have been a lonely way to live. I wish I had tried harder to pierce her defenses. At the same time, we all have to be willing to let people see behind the faÇade we present to the world. I never got the impression Diane was.