Shelter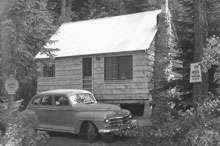 A Between-Houses Interlude
By Karlene Bayok Edwards
Photos Courtesy of Karlene Bayok Edwards
I returned from college that summer of 1972, not to our McCall home, which had been sold, nor to our Jughandle Mountain home, which Dad was still building, but to a small lakeside cabin east of McCall, generously lent to us by Harley and Elizabeth Mathisen.
The Mathisens were long-time friends of my parents, Joe and Marcella Bayok, and were like family to us. When Mother graduated from high school in 1935, she boarded with Harley and Elizabeth while she attended Boise Business College. It was Elizabeth who convinced Mother that Dad was good husband material, and when my parents married in 1939, Elizabeth sang, "I Love You Truly" at their wedding. In 1950, when Harley and Elizabeth were building their summer cabin beside Pilgrim Cove, Dad helped with the heavier construction, while their daughter Frances and her college girlfriend slept in sleeping bags in the yet-unfinished, upper story of our house in McCall. These were the threads connecting us to that summer when the Mathisen cabin became our refuge.
We worked hard those weeks—Dad and my younger brother Ron on the Jughandle house, Mother at the Forest Service, and I at the Kitchen Café—and we looked forward to each day's cabin homecoming: to boisterous blue-jays and squirrels in the spruce trees, to waves lapping in the cove, and sunsets burnishing the water, and to piecing puzzles together and competing at Scrabble or Canasta. We kept score meticulously and reveled in the rare moments when one of us managed to beat Dad.