Shopkeepers' Daughter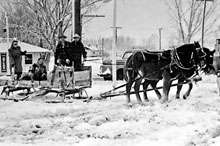 The Store as Polestar
By Nancy Max
Photos Courtesy of Nancy Max
In late 1945, when my dad accepted a job checking groceries in the Eden store, our family moved there from Twin Falls. We lived in a small apartment above the store, where all four of us—my parents Oleen and Mildred Haight, my younger sister Carol and I—shared one bedroom with a curtain serving as a door. Our two double beds were so close to each other that a card table barely fit between them. I remember we had a wringer washing machine in the living room/kitchen.
The store was owned by Bob and Irma Hinckley, who lived in a one-bedroom house adjacent to the store. Not too long after Dad started working there, Bob asked if he would be interested in buying the business. He said Irma hated living in Eden and wanted to return to Twin Falls. Money was tight after World War II and we certainly didn't have enough saved for the purchase. So Dad contacted his brother-in-law, Fred Young, whose wife was my mother's older sister Helen. The Youngs lived in Nampa, where Uncle Fred worked for his father in his photography business. Grandpa Young owned several businesses in Nampa and was a fairly wealthy man. Fred agreed to put up the majority of the money to buy the store, becoming a partner and co-owner with my dad.
The Hinckleys stayed on for a few months during the transition of ownership. The Youngs and their son Freddy moved into a larger apartment above the store. After everything was settled, the Hinckleys moved to Twin Falls, the Youngs moved into the house, and my family moved into the bigger apartment. My sister and I loved that apartment, because we got a bedroom to ourselves. Our parents slept on the pullout bed in the living room. There was a large awning outside our bedroom window that covered the gas pumps below: a perfect place for Santa to land his sleigh.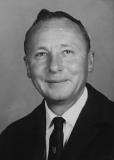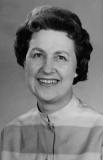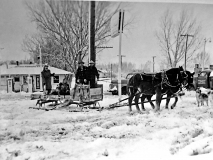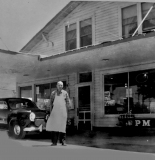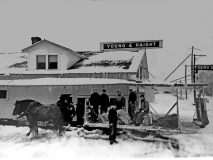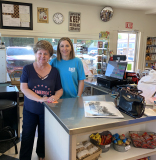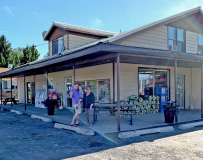 My parents' first goal after the purchase was to remodel and update the store. For help with that, my dad turned to his younger brother, Lloyd Haight, who lived in Boise, where he was the senior legal counsel and advisor to the potato magnate, J.R. Simplot. The company had decided to remodel its offices, and Uncle Lloyd made sure we got the wooden floors and light fixtures from the old offices for the grocery store's remodeling. My dad had worked for a furniture store, so he knew how to lay flooring and do upholstery, while my uncle had construction experience. They combined these talents to do the entire remodeling themselves. In addition to laying new floors and installing light fixtures, they added new windows. They gutted a lube and oil station on the store's south side and in its place built a long, curved lunch counter. They installed a commercial grill and coolers for beer, soft drinks, and ice cream.
Dad taught himself how to be a butcher. He cut sides of beef and pork, and he ground hamburger and sausage. In the coffee shop, Mom made cheeseburgers using loaves of cheddar that Dad sliced. Every pheasant season, when the area was overrun by hunters, mostly from California, they frequented our store for the cheeseburgers and homemade pie. Except for the pie, Mom did all the cooking. Her French fries were homemade, she had a daily special of either chili, pot roast, Swiss steak, or chicken fried steak, and she made milkshakes. The pies were baked daily in exchange for rent by an elderly lady who lived in the smaller apartment. My favorite was rhubarb, which grew wild out back, by a cinderblock structure that Dad and Fred built for storage.
My sister, my cousin, and I loved to rollerskate in that building. When we were teenagers, Carol and I sunbathed on its roof with our girlfriends, but let me tell you: it got HOT. One time, Carol and a friend got into big trouble when they made mudballs, lined them up on the roof to bake in the sun, and then threw them at passing cars on the highway.
Eventually, Uncle Fred remodeled the adjacent house, adding a second bedroom and bathroom. When I was about nine, the Youngs moved back to Nampa, after which we moved into the adjacent house and Mom and Dad ran the store themselves. Fred came to Eden at the end of each month to doublecheck my mom's daily bookkeeping. My parents hired various local people to help run the store, which benefited everyone. My sister and I were taught how to bag groceries and occasionally helped during rush hours. We also learned to make hamburgers, cheeseburgers, and milkshakes, although we didn't actually work behind the counter. Our extracurricular activities at school didn't allow us much time, as we were both cheerleaders and members of the drill team.
It was a fully stocked grocery store, open for thirteen hours on six days per week. On Sunday, we were open for five hours, so the farmers could get their weekly groceries when they came into town for church. Business was good but, obviously, the hours were long. More than once, when Dad took off his shoes at night, his feet were bloody from standing all day.
During harvest season, much of our business came from laborers who arrived to work in the fields. We got to know them as they returned year after year. Each spring, Dad always notified his customers to reserve their orders when a truckload of Elberta peaches was about to be delivered from Utah, or when watermelons were on the way.
As the center of activity in Eden, our little store was never dull. During the winter of 1948-49, which was notoriously harsh for many Idahoans, people around Eden were snowed in and unable to get to town for groceries. Ever resourceful, Dad found a farmer with a sleigh and horses who was able to help get food and supplies to those in need. One Christmas, my uncle rigged up a stereo system outside the upstairs window overlooking the street. He installed a large speaker and played Christmas music for everyone to hear. It was awesome to listen as the snow fell and brave souls skated in the street or "hooky-bobbed," hanging onto the bumpers of moving cars. On my sixteenth birthday, I celebrated in that store with my friends, introducing them to their first tacos, which I learned how to make during a visit to Los Angeles.
One day, I think it was in the late-1950s or early-'60s, Dad was behind the butcher counter when a lady entered the store to buy groceries and her estranged husband came running in with a shotgun. He shot at her but missed. Dad grabbed the nearest thing he could find, which was a broom, and started hitting the guy over the head with it. The idiot finally turned the gun on himself.
Another time, the eighteen-year-old daughter of a guy who worked in the store was kidnapped on the way home from school. I remember seeing our house and store surrounded by flashing police cars. The sheriff wanted to talk with my dad and the girl's father, but they taken off together with shotguns, looking for her. Then there was the night my girlfriend and I nearly burned the store down. We had been stood up by our boyfriends. It wasn't the first time they had gone to a neighboring town to see those "wild" girls. We decided to see what was so great about smoking and drinking. We were in the store alone after closing and decided to try one of every kind of beer in the cooler. Then we got a pack of cigarettes. To avoid being seen from the street, we went into the restroom. I sat on the john and she sat on a wastebasket. When we lit up, my friend stood and threw her match in the wastebasket, which started a fire. Talk about panic. We opened the window and, working hard, put out the fire and aired the place out. I never did tell my parents about that.
It was sad news when Dad learned that the interstate highway would bypass Eden. He saw the writing on the wall: our tourist trade would be impacted, and the new road would make it easier for locals to get to supermarkets in nearby towns. Time to sell.
In 1960, the store was sold and my parents moved to Burley. It was hard on my sister, as she had to complete her last year of high school in a different and much larger school. My parents went to work for Wayne May, who owned the Farmers Corner grocery store just south of the city. When Wayne unexpectedly passed away, my dad stepped in and managed the store until they retired, about seventeen years later. They then moved to Nampa to live closer to the Youngs.
I have such fond memories of my life in Eden. I now live out of state but whenever I return, I make time to visit our old store. The current owner, Summer Howard, has made much-needed improvements. The coffee shop is gone, and it's more like a convenience store now than a fully stocked grocery store, but there are still four functional apartments above it, which have been remodeled. Sadly, the adjacent house burned down several years ago. The cinderblock storage building behind the store still stands, but appears to be abandoned.