Show-Stopper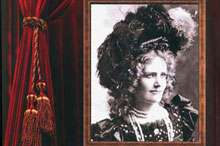 An Almost-Forgotten Starlet
By Gwyn Hervochon
I first stepped foot in Idaho during the summer of 2013, to interview for a job as a librarian and archivist at Boise State University. Originally from the East Coast, I arrived knowing little about Idaho beyond its famous potatoes.
My professional background is in theatre and acting, so it's no exaggeration to say that the existence of the Idaho Shakespeare Festival helped in making my decision to accept the position.
Less than a week into my new job, I went to a reading at a downtown bookstore by Boise State theatre professor emeritus Charles Lauterbach from his book Pioneer Theatre in the Boise Basin: 1863-1899. Both that book and his latest one, Jolly Della Pringle, Star of the Western Stage (McFarland, 2015)—educated me about my favorite aspect of Idaho's history.
Shortly after I moved to Boise, I was struck by the visible support the arts receive, and Lauterbach's writing demonstrates that the cultural life Boise fosters didn't appear out of thin air. It was built on a long-standing tradition of talent and support.