Skiing the Moon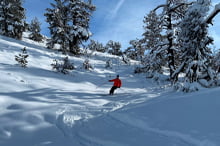 Alpine Touring Isn't Crazy
Story and Photos by Michael Stubbs
Just back from an adventure, I pull into the driveway in my red '99 SUV, which I bought in Alaska and have driven as far as a hundred-plus miles north of the Arctic Circle. As I remove a pair of skis from the back of the rig, my neighbor, who is taking his dog for a walk, asks where I've been. I tell him.
There is a quiet pause.
"I didn't know you could do that," he replies.
I smile, nod, and continue to remove gear: boots, poles, skins, backpack, extra coat, extra gloves. It is early evening, but it is dark already. "Well, we didn't ask, but nobody stopped us."
I smirk. It's true, but I do know the regulations.
He nods. "Skiing down a volcano."
"Defunct volcano, but yes. Skiing up and down a volcano."
His eyes widen in surprise although this is the second time I've mentioned the "up" part. I think most people figure I'm exaggerating or just making stuff up when I explain alpine touring. But we ski up and down in this mode of snow travel, cross-country too, and Idaho has abundant alpine touring opportunities for those willing to put in the work and earn their turns, rather than buying a lift ticket and standing in line.