Slant-Topped Tables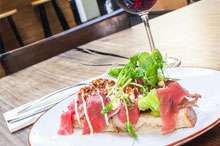 And Other Useful Ideas
By Les Tanner
I read a book a while back entitled The Next Fifty Years. It consists of a collection of essays written by scientists from a lot of different disciplines. In each essay, the author makes educated guesses on what might be the major discoveries and advances in his or her field in the next half-century, based on what has happened in the past fifty years, as well as on the physical and theoretical tools presently available and the directions of current research.
I found it to be fascinating reading. I even understood some of it.
However, in spite of the fact that I have an appreciation for what biologists and physicists and mathematicians and psychologists are studying these days, and realize that what they are working on is of tremendous importance to them—and may well be to all of humanity someday—most of it doesn't appear to me to be getting at some of the things which I, personally, would like to see worked on.
Take the problem of boom boxes, for example.
We live on a street in Caldwell that doesn't bear much traffic. However, just a block to the east of us is a much busier one. Fortunately, there are buildings and trees between here and that other street, and they do a pretty good job of muffling sounds that come from that direction. We can hear such things as sirens, of course, but that's about it.
Except for the boom boxes.