Snorkeling for Salmon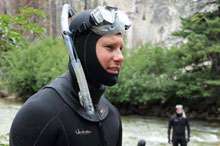 Wet-Run Research
Story and Photos by Kris Millgate
I'm looking at a lot of black. Black bark on the banks. Black bodies in the water. The bodies belong to snorkelers wearing dark wetsuits.
They're crawling facedown in a stream that feeds the Salmon River near Stanley. Their slick wet backs look like porpoises breaching the shallow water.
"It's like rock climbing in an aquarium," says Matt Pumfery, Idaho Department of Fish and Game fish technician, who is preparing paperwork for the tally process.