Spectral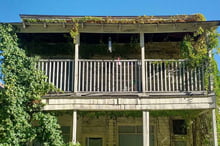 Eerie Idaho Tales
By Deborah Cuyle
Here's an offering for Halloween from an author who has written a number of books about phantasmagorical sightings in Idaho and elsewhere. Deb's newest, The Ghostly Tales of Coeur d'Alene, is an adaptation for children ages eight to twelve from her 2020 book, Ghosts of Coeur d'Alene and the Silver Valley. Her introduction, which draws in part on her previous writings, is followed by an excerpt from the new book, printed with permission.
When I look at old brick buildings or original hardwood floors, I try to imagine the thousands of people who once walked these streets or visited these buildings, the horses that pulled wagons and goods, the gunslingers and outlaws, the bartenders and shopkeepers—all of them living their lives and going about their business, just as we do today.
I would have loved to have been alive in the late 1800s. I just saw a huge safe from the late 1800s that has a bullet indentation in its side from an old murder that occurred in Wallace, where I lived until recently.
My Wallace house had some interesting things going on. A magician died in the home, and I found coins lined up on the windowsill. The previous owner was a cigar smoker and wore ridiculously strong cologne, which I sometimes could still smell. I swear, I even saw his ghost staring at his old house!
History is full of people who haunt us, who want to be recognized and never forgotten for what they accomplished while alive. Most of the stories in my Idaho books were told to me by locals and some were pulled out of old newspapers—all for fun and for the love of history and lore.