The Selway at Last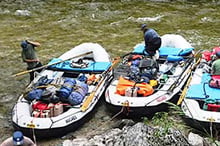 Happy to Not Row
Story and Photos by Ray Brooks
I first entered the U.S. Forest Service's Selway River lottery, along with my wife Dorita and other rafting friends, in 1993. It's a very tough lottery to win. Only one group a day can launch on the Selway and only three private groups can launch each week. The river, which drains the west side of the Bitterroot Mountains that form most of the Idaho–Montana border, is often high and dangerous until the last week in June, and then it goes down rapidly and by mid-July is usually too low and rocky for rafts.
It was the only U.S. river included in the 1964 Wilderness Act, as part of the Selway-Bitterroot Wilderness, and then it was designated "wild" under the 1968 Wild and Scenic Rivers Act, one of only eight rivers in the country that originally were protected by that landmark legislation. After about eight years of losing the Selway lottery, our group gave up on it and concentrated on the Middle Fork Salmon lottery, which one of us would win every three or four years.
Much time went by and then on June 1 of this year, I got an email from a Selway River outfitter. There had been cancellations on a five-day trip that started June 18. Only ten passengers were allowed on the float. Did I want to go? We signed up within a few hours, paid our fees, and made ready. The well-respected Idaho outfitter would provide everything for the trip except our personal clothing.
I had wanted to do this for more than a half-century.