Secret Burgers/Zucchini Cookies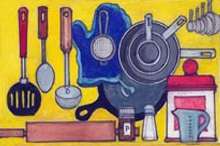 By Amy Story
Secret Season Burgers
INGREDIENTS
1 lb. ground hamburger, thawed
2 Tbsp. soy sauce
1 tsp. bacon grease
1 Tbsp. minced garlic
1 or more Tbsp. Montreal Steak Seasoning™
1 Tbsp. dried minced onion
1 tsp. beef bouillon paste, dissolved in a small amount of very hot water, and then stirred well into pourable fluid.
PREPARATION
> Mix all ingredients thoroughly and form into large patties.
> Let flavors sit together in a container refrigerated for as long as possible (even overnight if you're that good of a planner).
> Cook on barbecue grill to preference (we like medium rare).
Note: I have multiple kitchen secrets, but this one is too good to not share. Shh …Wild River Bill doesn't know what goes into my burgers. He's happy about his hamburger inventions, which is warranted, because the guy makes a mean burger. Yet his last few attempts have had special ingredients added that he knows nothing about because behind the scenes, I've been the seasoning master. I believe he has accredited the flavor change to the multiple pounds of fresh ground beef friends recently gifted us, and while it's tough to argue that the freshest of ground beef does improve flavor, you and I now both know that's not the entirety of the "why."
The masters teach that soy sauce adds depth to just about everything (even soups and spaghetti sauce), and so I experimented. Later, when I discovered the combo of soy sauce and beef bouillon for stir fry, I wondered why a person couldn't infuse this into hamburger. Turns out you can, and it's fabulous. Other additions we like can vary, but one is what Wild River Bill calls the "Caprese Burger," which we've had multiple times over summer and early fall evenings, and guests love them. Drizzle a reduced or thickened balsamic vinegar on the hamburger and put it on a butter-toasted bun with thinly sliced mozzarella or Swiss cheese, thinly sliced fresh tomato, and fresh basil leaves. Combined with my "secret" burger ingredient, this is really, really good.
Soft Batch Zucchini Cookies
DRY INGREDIENTS
1 ¼ cups white flour
1 tsp. baking powder
1 tsp. or more ground cinnamon
1/2 tsp. nutmeg
1/2 tsp. ground ginger
1 tsp. ground black pepper
1 tsp. salt
OTHER INGREDIENTS
5 tablespoons melted butter or coconut oil
1/2 c. sugar
3 Tbsp. maple syrup
1 egg
1 teaspoon pure vanilla extract
1/2 c. to 1 c. shredded zucchini
1 c. or more chocolate, white chocolate, or butterscotch chips—we like to use all three together for the "triple-chip effect."
PREPARATION
> Combine the dry ingredients in large bowl.
> In another bowl, combine the other ingredients up to the vanilla extract, and then blend.
> Add the shredded zucchini and chocolate to the second bowl and stir.
> Combine the contents of both bowls and shape into cookies.
> Bake at 350 degrees for approximately nine minutes, until cookies are golden brown underneath.
Note: The maple syrup is the key ingredient. It changes the batter, binding it in a smoother way than sugar can, and it makes these cookies downright irresistible. They will come out of the oven looking a little doughy, but once they cool, they are melt-in-your-mouth delicious and go great with milk, tea, coffee, hot chocolate, etc., on a chilly evening. It's not unheard-of to have them for breakfast.
If you enjoyed this story, please consider supporting us with a SUBSCRIPTION to our print edition, delivered monthly to your doorstep.