Speeders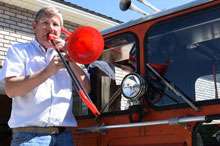 Railroad Workhorses Rescued from Oblivion
By Bill Phoenix
One thing people quickly learn about me is that I have "railroad blood." My fascination with trains has been lifelong. When I was a toddler, my father Chilton Phoenix, a World War II vet, was studying law at Stanford University.
One day I wandered away from the student housing where my folks were living. Soon after, the search party my mother organized found me a few blocks away, in diapers, with my little red wagon, waving to a commuter train. Dad had once taken me there to see trains and wave at the engineer, so I knew the way.
Dad became a lawyer for the Union Pacific and our family moved to Pocatello, a perfect place to grow up, because the railroad had a huge presence there. When it came time to choose a career, I went for engineering—but not trains. I started as a health physicist in the 1960s at Idaho National Laboratory's Advanced Test Reactor. Today I still work for the lab part-time, as a nuclear engineer at the Transient Reactor Test (TREAT) Facility. I tried retirement more than once but didn't like it.
Still, I count myself as extremely lucky to have discovered a hobby late in life that satisfies the "railroad boy" in me. In 2012 my wife Kathie and I discovered "speeders," and since then we've become part of a very specialized group of people.