Staying Alive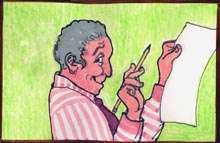 Better Than Buried Alive
By Steve Carr
"For Sale: one near-mint condition, high school letterman jacket, circa 1973, never worn, some minor moth damage."
With the recent addition of several golf shirts to my closet, something had to go. I'd narrowed the list to my powder-blue leisure suit with matching pocket square or the letterman jacket, same vintage. I thought I might still wear the leisure suit. The lightweight material would breathe nicely in the coming sticky summer days.
I lettered as a high school sophomore. In my Idaho world nearly fifty years ago, football ruled. I didn't letter in football. I was a pretty fast runner, until I donned thirty pounds of shoulder pads and a helmet. Then I became dead weight and served only as a 125-pound blocking dummy in practice. So I retired. Leaving me without a sport.
Hoping to avoid Physical Education with its climbing rope (in my cheek-peeking gym shorts,) I signed up for "athletics." The athletics class satisfied the PE requirement. It also meant I had to participate in a sanctioned high school sport. Anyone can run track, I reasoned.