Sticks and Strings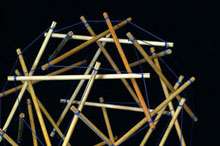 Tension Tied with Integrity
Story and Photos by Les Tanner
What's this thing?" I asked. I had glanced at the object and was about to move on until I realized it deserved a second look.
"Interesting, isn't it?" replied our host.
"Sure is. I've never seen anything like it. What is it called?"
"Honestly, I don't know—if I ever did. One of my students made it."
It was 1979, our first year and first winter here in Idaho. Lamar Bollinger, a colleague at The College of Idaho, and his wife, Faith, had invited Ruby and me to their home for dinner. Lamar was showing us around their home when I noticed the strange spherical thing on their fireplace mantel.
It was made of sticks and string and looked faintly like a bird cage. What puzzled me was that none of the sticks touched any other sticks. How could that be? Any structures that I'd ever seen made of components like those sticks were held together by attaching the components directly to each other using glue, nails, rivets, screws, or some other type of fastener. This had to be an illusion.