What Are They Doing in There?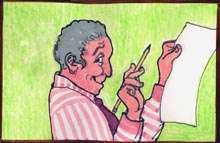 By Steve Carr
For those of us who live and work in eastern Idaho and are not affiliated with the Idaho National Laboratory, what happens there (despite their claims of being an open book) has always been a riddle.
Like most, I enjoy the occasional clever riddle but I've never spent much time working out the solutions. After all, aren't the answers supposed to be printed upside down on the bottom of the same page? Despite the numerous top-secret Q clearance holders and musclebound, swat-team-front-gate-greeters, the Idaho National Lab doesn't really have a cloak-and-dagger vibe (as fun as that would be). No, it's just an accepted enigma to the locals of eastern Idaho.
For those of you on the other side of the state or beyond, "The Site" is a decades-old, imprecise yet ubiquitous term we use here to refer not only to the restricted area in the desert that houses the nuclear reactors and their affiliated business, but also, for most of us, the various offices and labs in town.