The Death of George Grimes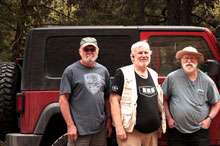 Who Killed Him, and Why?
By Jesse L. Ayers
The weather was cold in the valley and snow remained on the mountains in early Maach last year as Bud Jones and I headed for the summit of Grimes Pass. Bud, a longtime Idaho resident, lives along a tributary of Grimes Creek and is a valuable source of local legends. He knew the location of a pioneer cemetery atop Grimes Pass, off a small road south of State Highway 17 between Garden Valley and Lowman. The legendary pioneer George Grimes was buried in the cemetery, and Bud had agreed to show me the way there.
My interest in visiting the site sprang from a fascination with stories I had heard from Idaho City residents about the state's gold rush era. In an effort to learn more about the history of that time, I made a trip to the Idaho State Archives, where I uncovered numerous newspaper articles about George Grimes's Idaho expedition from Washington Territory and his death just days after discovering gold. I was particularly interested to read unsubstantiated reports—a conspiracy theory that still persists—contradicting the official explanation of his death from a Shoshoni-Bannock attack.
On the trip, I was worried about the depth of the snow but Bud assured me that my 4WD vehicle should be all right. I drove while Bud directed me along unpaved roads through Pioneerville, a town of three thousand people during its heyday in 1863. The hotel, several livery stables, and saloons have long since disappeared and only one general store remains on the main street of the unincorporated community, which relies on portable restrooms for its downtown facilities. As we kept going, I lost track of precisely where we were and had to rely on Bud to navigate us through the backroads to Grimes Pass.