Sweat Equity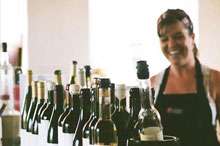 Will Climate Change Make Idaho a Wine Mecca?
Story and Photos by Rachel Gattuso
For a long time I was a snob among snobs, and an amateur one at that. Before I moved to Idaho in early 2011, most Thursdays found me wine tasting with friends in Reno, trying to develop my palate while blowing off steam from the work week. In those years I stubbornly stuck to the wide world of reds, finding comfort in the sharp Zinfandels, fruity Merlots, and the earthy nature of Pinot Noirs. For no reason other than to avoid being "one of those girls who only drinks white wine," I turned up my nose at them, convinced that the best the wine world had to offer lay solely in the red camp. After moving to Idaho, the same ignorant portion of my brain that kept me away from half the wine world was convinced I wouldn't find high-caliber wine in the Gem State. How silly I was.
But at first that perception was reinforced when I was disheartened to discover that most stores in parts of southern Idaho boasted wine selections much smaller than what I was used to. I was able to find a few favorite labels on the shelves, but didn't land on much else that enticed me. Did this shortage of recognizable labels indicate the state's inability to produce sophisticated wines?