Sweet Corn Pie/Key Lime Mousse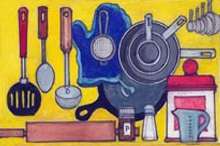 By Amy Story Larson
Summer Comfort Sweet Corn Pie
INGREDIENTS
2 Tbsp. butter (plus extra for the dish)
1 c. finely chopped yellow onion
1 medium garlic clove, minced
4 c. fresh or thawed corn kernels (6 large ears)
2/3 c. milk, half and half, or heavy whipping cream
2 c. (about 8 oz.) grated soft cheese – half extra sharp cheddar, half fontina
¾ c. panko bread crumbs
1 tsp. kosher or sea salt
¾ tsp. ground white pepper
3 Tbsp. chopped fresh chives, optional
3 eggs
powdered garlic and red pepper flakes
paprika (optional)
PREPARATION
> Preheat oven to 375 (F), move rack above middle position. Lightly butter standard sized pie plate.
> Melt 1½ Tbsp. butter in a medium skillet over medium high heat. Add onion, cook approximately 4 minutes, until slightly browned at edges. Turn heat down to medium, add garlic, and cook 2 to 3 minutes, until garlic is almost browned. Combine onion/garlic mixture in medium mixing bowl with corn, milk, 1½ cup cheese, ½ cup panko, salt and pepper, and chives. After stirring, add eggs and mix well. Pour mixture into prepared pan.
> Melt remaining ½ tablespoon butter, let cool slightly, then combine with ¼ cup panko, ½ cup cheese, ½ tablespoon chives, and a pinch of salt, powdered garlic, and red pepper flakes. Sprinkle over the pie filling. Bake (on a rimmed baking sheet for easier handling) about 35 minutes, until slightly puffed, set, and beginning to brown. Cool 5 to 10 minutes before serving, topped with a dash of paprika and more chives, if desired.
NOTE: An "end of summer" brunch is a sweet idea. None of us wants to see her go, but it might help to take part in a fond farewell, with sincere thanks for the memories. Trim the grass, clear the yard, set a few portable tables under the trees as the sun comes up, and enjoy this scrumptious "summer comfort food" recipe.
*Adapted from naturalcomfortkitchen.com
August Key Lime Mousse
INGREDIENTS
1 8 oz. package cream cheese softened
1 14 oz. can sweetened condensed milk
1 12 oz container frozen whipped topping, thawed
1 cup fresh lime or key lime juice
1 Tbsp. pure vanilla extract
PREPARATION
> In a large bowl, add softened cream cheese, condensed milk and thawed whipped topping, mix with electric mixer until combined.
> Add lime juice and mix well until mixture is thick and smooth.
> Pour into 4 individual serving bowls or parfait glasses and chill thoroughly in the refrigerator before serving.
> Garnish with shaved white chocolate, grated lime rind, mint leaves.
> Enjoy.
NOTE: Working evenings for my paint party business, finding time to socialize with friends can be tricky. I'm so grateful for those friends who are willing to stay up and go to a late night diner for a chat over a couple of slices of good pie. For me, preferably key lime.
*Adapted from gritsandpinecones.com