Sweet Potato Coins/Candied Almonds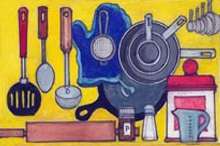 By Amy Story Larson
Sweet Potato Coins
INGREDIENTS
1 large can cooked chicken, drained well
1 sweet potato, shredded
1/3 c. green onions or diced green chilies
1/3 c. flour or almond flour
2 Tbsp. coconut or other oil
1/2 tsp. garlic or 1 tsp. minced garlic
1/2 tsp. salt
1/2 tsp. onion powder
Pepper or red pepper flakes to taste
PREPARATION
> Combine all ingredients, scoop into small rolled balls, and press onto a prepared baking sheet, flattening somewhat.
> Bake at 400 degrees Fahrenheit, 25-28 minutes.
NOTE: Nothing says love like feeding people finger foods that help strengthen the immune system, manage stress and anxiety, support digestion, contain anti-inflammatory properties, and support healthy blood sugar levels. It's like a chef's secret weapon: the snack that predicts a good mood. You're absolutely welcome.
Happy Candied Almonds
INGREDIENTS
2 tsp. butter
1/2 c. granulated sugar
1/4 c. water
1 tsp. vanilla extract
2 tsp. cinnamon
2 whole c, almonds
Optional: a sprinkle of cayenne pepper
PREPARATION
> Place parchment paper in a baking sheet, and apply spray, butter, or baking oil onto the paper.
> In a prepared pan, blend sugar, water, vanilla extract, and spices. Bring to a boil, and then add almonds.
> Cook, stirring constantly, until mixture becomes a stringy syrup that crystallizes onto the almonds.
> Spread almonds onto baking sheet, and allow to cool.
Can be stored for days in an airtight container.
NOTE: As a little girl, a teen, and even into adulthood, I'd smell the candied almonds at the fairs, rodeos, and expos, and be drawn to the booths. I don't know if I was simply hanging out with the wrong crowd, but as I tried to go in the direction of that heavenly aroma, I'd often get outvoted. At a certain age, I made it a point, with or without the others, to make a beeline for the candied almond booth, and make a purchase, whether I was hungry at the time or not. Just because I could. Almonds are known to enhance brain function, nourish the nervous system, and increase intellect. I know that everything about this treat makes me happy and contented. Enjoy. (I sure have!)