The Chef Wows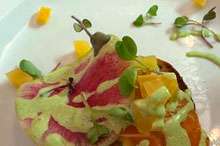 Haute Cuisine at the General Store
By Desiré Aguirre
Photos by Christine Holbert
This feature is offered free in its entirety for the first part of January.
I admit it. I got lucky. A friend had two extra tickets to attend the monthly five-course (ten-star) meal at the general store in Sandpoint, and she wanted to know if my mom and I wanted to go. We said yes, and drove across town on a dark and rainy night to the north side of town, my old stomping grounds.
Greeted with lights, we turned into the parking space, parked, and dashed inside. Two long tables, decorated in autumn colors and set for royalty, had places for forty guests. Mom and I took our seat in the front corner, our marked spot, and waited for our friend.
Memories bounced around in my head. Arlene Jacobson used to own the place, and her two sons, Alex and Neal, went to Northside Elementary with my kids. According to rumor, Alex had gone off to a prestigious chef school in San Francisco and eventually made his way back to his home. He purchased the store from his mom, and he and his wife and he have been running it ever since. They plan on raising their children here.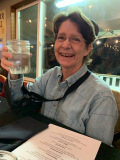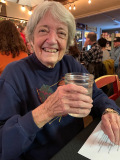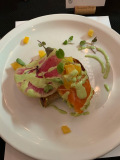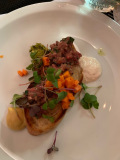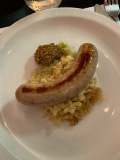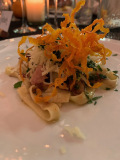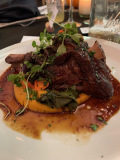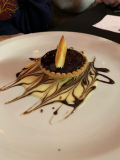 The makeshift restaurant filled rapidly. Some of the guests had been trying to get into one of these monthly meals for quite some time—they sell out really fast. Introductions were made, connections materialized. The lady across from me was a teacher at Northside Elementary, and the gentleman next to me, an avid skier who had worked on ski patrol, knew one of my best friend's husband, another hotshot skier. One of our tablemates asked my mom if she would be in the Follies again this year. The Follies, a traditional Sandpoint fundraiser organized by the Angels over Sandpoint, occurs at the beginning of each March. My mom, Rhoda Sanford, always steals the show. Mom laughed. I guffawed, staking my claim to fame: "I'm always her opening act."
Working in a tight space, the crew at the store did a marvelous job delivering our food. They have it down. And with each new course, the master of ceremonies, our chef, Alex, gave a short spiel on what we were eating. Alex has a passion for food, and it shows in his smile, his laugh, and his belly. He delights in sharing his expertise, wowing his guests with tasty tidbits that were almost as good as the food.
The food was incredible. I had limited myself to a salad at lunch, knowing I needed to have room for this dinner. I told myself to eat at a slow pace, savor every bite, and reminded myself I didn't have to clean every plate. But at the beginning, when each bite exploded in my mouth with a unique mix of flavors that tantalized and teased, I had no choice but to practically lick my plate clean.
The first course, smoked salmon and avocado with micro-greens, golden beets, and radish on toasted sourdough bread, looked and tasted sublime. Alex had lightly smoked the salmon himself, and the bread came from the new bakery in town—Alex tries to get all his supplies locally.
By the time the second course arrived—a beef tartare of chopped prime tenderloin with horseradish crème fresh, oregano, egg yolk, and Dijon mustard on a baguette—the tables vibrated with lively conversation, as well as the sights, scents, and divine tastes. Alex almost had to shout to get our attention.
"When I saw this beautifully marbled cut of meat," he said, "I knew it was destined for this dish."
Our third course—boudin blanc sauerkraut with spaetzle and house-made whole grain mustard—knocked my socks off. Alex informed us that this dish was all about the fat, and that the sausage, a rare mix of ingredients that burst with flavor, was richly decadent. After one bite I had to agree. Best of all, the sauerkraut and the mustard lit up my tongue, firing up my nostrils with a flare. Alas, by this time, my stomach, on overload, could not handle the last bite. I could not clean my plate, and I noticed that some of the ladies at the table were giving their husbands some of their food.
When we got to the fourth course—Riesling-braised bacon ragu, roasted carrots, fettuccine, Manchego cheese, gremolata topped with carrot crisps—I was ready for the intermezzo of green tea and mint with a lemon shot. But the dish smelled so good, and looked so heavenly, that I forced myself to devour it. My lips curved up in joy, my tongue rejoiced, my belly balked.
The tea arrived, and Alex announced a short break. I got up to wander around outside and get a breath of fresh air. Secretly, I hoped that walking would force some of that food down to the bottom of my feet so I would have more room for the final course: red wine-braised lamb shanks with blue hubbard squash.
Alas, the walk did not push the first four dishes down far enough. I could not finish my lamb shank. I lamented that it had not been the first dish, that I had not heeded my own advice and eaten the first four dishes slower, that I had literally cleaned the first two plates, that I had eaten a salad for lunch. Alex informed us that braising takes time, and he had been preparing this dish for several days. The tender lamb flaked off with my fork, and the squash, which he had purchased from a local farm, soaked up the liquid, providing me with flavors meant for the gods.
Of course, we also had dessert. Alex informed us it was chocolate, duh, in a marionberry tart, which reminded him of his grandmother. And yes, I practically licked my plate.
"People ask me how I come up with my menus," Alex said toward the end. "Really, it's just food that I want to eat. I mean, we had two pasta dishes, which is just ridiculous. I hope you all enjoyed."
We clapped, we whistled, we raised our glasses to the chef.