The Demo Special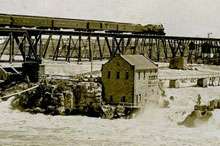 Rediscovering "Agricultural Improvement" Trains
By Thornton Waite
When I moved to southern Idaho in the mid-1970s, I continued a longtime interest in the history of railroads by researching the history and growth of the industry here.
It soon became obvious that the area's early development had been dependent on the Oregon Short Line, a subsidiary of the Union Pacific Railroad, which was built across the southern part of the state in the early 1880s. Irrigation opened up the land to farming and ranching, but without the railroad there was no way to get the crops to market. The specific intent of the Oregon Short Line's network in southern Idaho was to promote agricultural development in the beginning years of the 20th Century via lines that ran to new towns all over this part of the state, including Buhl, Victor, Twin Falls, Aberdeen, Hill City, and Rogerson.
This combination of irrigation and new rail lines provided the impetus for the establishment of farms throughout southern Idaho. For example, in 1913, just three years after the rail line to what is now Aberdeen had been completed from Blackfoot, a small land rush began to that area. The Aberdeen Valley Investment Company bought all the properties in Aberdeen: fourteen bungalows, 1,309 residence lots, 150 business lots, and farmland. Each such property was offered in a lottery whose tickets were priced at $150, and salesmen traveled long distances to let people know about the opportunity. Butte was a focus for these salesmen's efforts, and on the drawing day of April 18, 1914, a special train carried prospective settlers from Butte to Aberdeen. Accordingly, many of the properties went to Montana residents, who moved down to farm the area. This process was typical of the settlement of numerous places along Union Pacific lines.