Street with No Name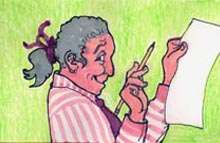 Swinging Wide on the Boulevard
By Steve Carr
The street, which we called Boulevard, was home to our gang. Our territory stretched for a mile or so, north and south. It was home to the Fourth of July parade. We threw snowballs, stored for months in the freezer, at those gathered to watch the rodeo queen and her court. The hedge separating the street and my best friend's house provided perfect cover.
Sandy Koufax, not Martin Luther King Jr., not Walter Cronkite, was our hero. Hot rod drag races were from James Dean's world. We raced bicycles. We hid a pair of shapely mannequin legs under the hedge, just enough plastic skin showing to catch the eye of the passerby.
Stern Judge Black lived off of Boulevard on Tautphaus Drive. One had to know these things, so as steer clear of trouble. His backyard bordered the city park, the southern limit of our territory. Farther north on Boulevard we pedaled fast past Scout Master Watkins' southern-styled house and manicured yard. We had little interest in working on merit badges. Farther still was the "Blind Barber," who gave bowl haircuts for a buck. And farther on was Murphy's Market, where our nickels bought a pocketful of sugar.