Chollo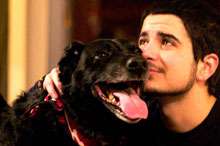 Good Dog, Happy Boy
Story and Photos by Desiré Aguirre
When my son Nik was around ten years old, he began begging me to let him have a dog. His media campaign included a list of the advantages of having a dog, and how he would be responsible for all the dog's needs. I hemmed, I hawed, and finally, I caved in.
Nik saved his allowance, and when he had enough money to adopt a dog, I took him to the Panhandle Animal Shelter. I hoped for an older dog, a pet that was mature and less likely to destroy the new carpet. Nik had other ideas, and when he saw the mixed-up-Lab puppies, he fell in love with the biggest one.
We took the puppy home with us after Nik signed a contract and received instructions on how to care for his new pet. The puppy came with a ten-day warranty, and I remember every day, that puppy would get into some kind of mischief and Nik would declare, "I'm taking him back." But the puppy, now named Chollo, had other ideas, and would always win his way back into Nik's heart.